Molique Kicking His Way Into History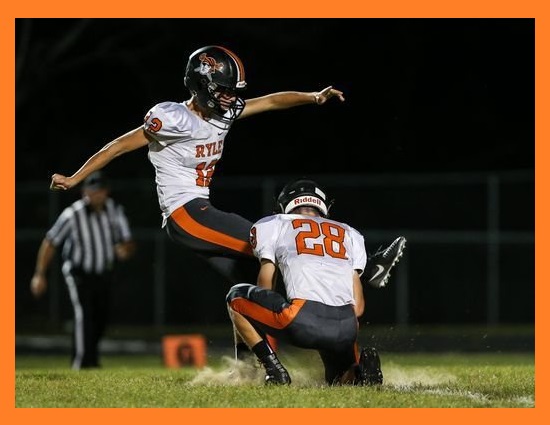 Ryle K Mason Molique (photo from ryleraidersfootball.com)
Ryle Raider, Mason Molique is ascending up the all-time leader lists for kickers in the state of Kentucky heading into his senior year. With each successful kick, he moves his place up another notch on the charts of commonwealth prep football history.
According to the Kentucky High School Athletic Association (KHSAA) football records, Molique is tied for 14th place all-time in career field made with 22. Two more and he will move up to 10th place and eight more field goals will make him just the fifth player to reach 30.
His 11 consecutive field goals made in 2015 is second best in state history. Tanner Siewert (Henderson County) holds the record with 20 in a row from 2000-02.
Molique's 149 extra points places him 24th all-time. He needs 51 extra points to become just the seventh player to knock down 200 extra points. Brennan Jones (Highlands) holds the Northern Kentucky mark with 170 extra points from 1996-99.
Here is a look at Molique, By The Numbers.
    4 – Field goals made as a junior
7 – Field goals made as a sophomore
11 – Field goals made as a freshman
22 – Field goals made in his career
28 – Field goals attempted in his career
44 – Extra points made as a junior
49 – Extra points made as a freshman
54 – Points scored as a junior
56 – Extra points made as a sophomore
77 – Points scored as a sophomore
82 – Points scored as a freshman
149 – Extra points made in his career
154 – Extra points attempted in his career
216 – Points scored in his career