2018 Snapshot: Turpin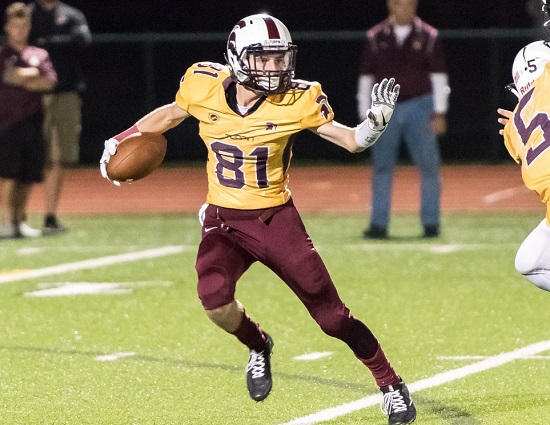 Turpin WR Justin Silverstein (photo by David Shelton/TriStateFootball.com)
Depth means so much in high school football. It brings out fierce competition, the ability to absorb injuries with the next man up and most of all you have players who have been through past battles on Friday nights. Turpin is striving to get to that point where depth takes them back to the level of play that the program has been accustomed to over the past decade-plus.
Spartans head coach, Kent McCullough pinpoints what his troops need to overcome in 2018. "Our lack of experience. We don't know any better but to work hard. The standard at Turpin is very high and it is their job every year to accomplish it," on his team's strength. On what could be the squad's largest obstacle."Our lack of experience, there are some positions that will need to grow up fast, for us to start fast."
Turpin has more than its fair share of unknowns. Even though you might not see familiar faces on the field expect McCullough to put his players in the right positions to be successful. Getting to the postseason is going to take a monumental effort for the Spartans. The schedule is not conducive to this young team gaining confidence early on, but the opportunities are there to make that happen.
This team should relish the role of being the underdog. The Spartans have the chance to make life miserable for the foes that take them for granted. The odds may be stacked against Turpin that doesn't mean they have to comply with the doubters. McCullough's boys will fight for their respect.
Division II, Region 8
2017 RECORD:  4-6, 3-4 ECC
COACH:  Kent McCullough (4-6 at Turpin, one year; 43-32 overall, seven years)
HONOR ROLL
Hunter Pembleton, Jr, LB –  In his first year as a starter Pembleton was named Second Team All-ECC. He will be in "beast mode" after adding 30 pounds to his frame in the offseason.
Garrett Ennis, Sr, OL/DL – The leader of the defense. The underclassmen will be influenced by the example he sets. Ennis was a Second Team All-ECC selection a year ago.
OTHER RETURNEES
Justin Silverstein, Jr, QB –  Will move to quarterback this season. He is the most productive of all the returning skill positions players. Silverstein had 23 receptions for 277 yards and three touchdowns as a sophomore.
Josh Bell, Jr, TE – There is a tremendous upside for Bell as a receiver with his 6-foot-4 frame and wingspan. Look for him to become a weapon in the red zone for Turpin.
Phil Messerly, Jr, LB – Part of a junior class that could make a real impact on defense for the Spartans. Messerly has all-conference talent.
Michael Hooper, Sr, RB/DB – In limited varsity action Hooper has shown big play ability with a 69-yard touchdown run and a 64-yard touchdown catch.
NEWCOMERS
Reece Evans, Jr, RB/LB – After a knee injury kept Evans from being a factor as a sophomore. Don't be surprised if he has a breakout year.
PLAYOFF HISTORY
(10 appearances, 11-10) – 2016, 2015, 2012, 2011, 2010, 2009, 2008, 2007, 2006 (Regional Champions), 1995

2018 SCHEDULE
Fri – 08/24/18 – at New Philadelphia – 7:00 PM
Fri – 08/31/18 – NORTHWEST – 7:00 PM
Fri – 09/14/18 – at West Clermont – 7:00 PM
Fri – 09/21/18 – KINGS – 7:00 PM
Fri – 09/28/18 – WALNUT HILLS – 7:00 PM
Fri – 10/05/18 – at Loveland – 7:00 PM
Fri – 10/112/18 – at Anderson – 7:00 PM
Fri – 10/19/18 – WITHROW – 7:00 PM
Fri – 10/26/18 – at Milford – 7:00 PM
BUILDING A WINNING TRADITION
Turpin began playing football in 1976. In the first 30 seasons of Spartans football the most wins they ever had in a year was nine (twice). Since then, (from 2006 to now) the program has won at least 10 games six times in 12 seasons.
WANTED: TOUCHDOWN TOUR GUIDE
Entering the season only three Spartans have ever found the end zone – Silverstein (three times), Hooper (twice) and Bell (once). Turpin returns just 16.4% of its point production from a year ago.