2018 Preseason All-TSF Team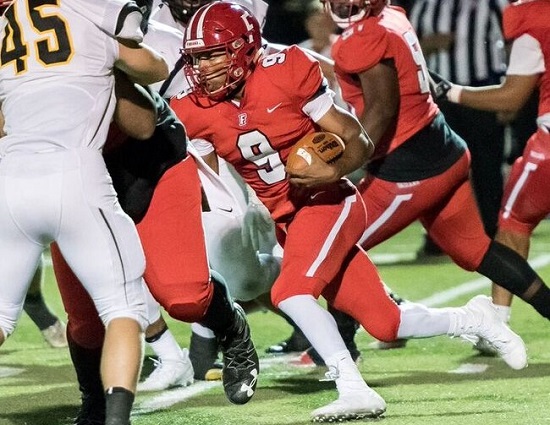 Fairfield RB Juthan McClain (photo by Justin Sheldon/TriStateFootball.com)
The fans have made their statements as the Preseason 2018 All-TriStateFootball.com Team comes loaded with fun surprises. Unlike the Postseason All-TSF Team, the preseason squad sees fan vote alter the landscape and look of the best that the forthcoming '18 campaign has to offer. Fans control 30% of the vote (TSF staff- 70%) for the Preseason All-TSF Team. That vote really can sway the results of the poll. Take the results with a grain a salt as the poll was designed by taking this into account. It makes for entertaining locker room/water cooler debate.
There were 131,070 total votes (Borda Counta method used) cast for the Preseason All-TSF Team. There were 341 players nominated, an estimated 3% of players on the 170+ teams that TSF covers. Of those nominated, 151 made the team – 44%. Five Colerain players were named first team. Fairfield landed three Indians on the first team offense. Xenia voted up three Buccaneers to second team status. The third team is spattered with small school talent. It would be one electric team to see on a Friday night.
Here is a look at the Preseason 2018 All-TriStateFootball.com Team.
FIRST TEAM
QB: Michael Bittner (Elder)
RB: J.J. Davis (Colerain)
RB: Jutahn McClain (Fairfield)
WR: RJ Khayo (Moeller)
WR: Kyle Trischler (Elder)
TE: Erick All (Fairfield)
OL: Rusty Feth (Colerain)
OL: Zach Carpenter (Moeller)
OL: Isaiah Gibson (Springfield)
OL: Jacob Hensley (Fairfield)
OL: Zeke Correll (Anderson)
DL: Steven Faucheux (Lakota West)
DL: Kennedy Coates (Trotwood-Madison)
DL: Alex Merritt (Moeller)
DL: Michael Mayer (Covington Catholic)
LB: Luke Bolden (Colerain)
LB: Brody Ingle (La Salle)
LB: Daved Jones (Lakota West)
LB: Thomas Kiessling (St. Xavier)
DB: Avi McGary (Lakota East)
DB: Deshawn Pace (Colerain)
DB: Moses Douglass (Springfield)
ATH: Syncere Jones (Colerain)
ATH: Julian Herman (CHCA)
PK: Mason Molique (Ryle)
P: Drew Nieman (La Salle)
RET: Corey Burnette, Jr. (Centerville)
SECOND TEAM
QB: Connor Bazelak (Alter)
RB: Ivan Pace Jr. (Colerain)
RB: Cameron Porter (La Salle)
WR: Jack Coldiron (Covington Catholic)
WR: Bryant Johnson (Butler)
TE: Connor Foster (Milford)
OL: Gavin Gerhardt (Xenia)
OL: Parris Johnson (St. Xavier)
OL: Colin Alcorn (Miamisburg)
OL: Sam Weaver (West Clermont)
OL: Peyton Bartley (Xenia)
DL: Jabari Neal-Jackson (La Salle)
DL: Jowon Briggs (Walnut Hills)
DL: Spencer Bono (Elder)
DL: Eric Phillips (Colerain)
LB: Del Thomas (Fairfield)
LB: Diego Neri (Northwest)
LB: Jarred Uran (La Salle)
LB: Luke Szabados (Moeller)
DB: Dominick Nigro (Mason)
DB: Jestin Jacobs (Northmont)
DB: Christian Lair (Xenia)
ATH: Joey Edmonds (Wyoming)
ATH: Jackson Myers (Miamisburg)
PK: Jake Seibert (La Salle)
P: Rolando Perez (Thurgood Marshall)
RET: Jack DiMario (Alter)
THIRD TEAM
QB: Hosea Hairston (Princeton)
RB: John Blevins (Alter)
RB: Travon Mason (Lloyd Memorial)
WR: Jake Ayler (Milford)
WR: Logan Castleman (Beechwood)
TE: Ross Parrish (Anderson)
OL: Connor Bunts (Fairmont)
OL: Jakob James (Elder)
OL: Jacob Padilla (Wayne)
OL: Jacob Gideon (Ryle)
OL: Alex Hicks (Lockland)
DL: James Smith (Wyoming)
DL: Nathaniel Armstrong (Alter)
DL: Gabe Kilgore (Bethel-Tate)
DL: Sam Secrest (Fenwick)
LB: Ty Beam (Clinton-Massie)
LB: Trey Baker (Fairmont)
LB: Cael Parkhurst (Miamisburg)
LB: Jackson Saladin (Ryle)
DB: Taron Britt (Trotwood-Madison)
DB: Jeremiah Ross (Lakota West)
DB: Danny Spivey (New Miami)
ATH: Demarco Bradley Jr. (Taft)
ATH: Gabe Van Skaik (Reading)
PK: Chris Mangold (Colerain)
P: Logan Persson (Indian Hill)
RET: Austin Price (West Clermont)
HONORABLE MENTIONS
QB: Andre Gordon (Sidney), MJ Horton (La Salle), Danny Hudepohl (Gallatin County), Rashad McKee (Wayne), Evan Prater (Wyoming), Josh Taylor (Western Brown), Jeff Tyus (Fairfield), Malik Verdon (Moeller), Tate Vongsy (Miamisburg).
RB: David Afari (Lakota West), Josh Burritt (Tippecanoe), Jesse Deglow (Fairmont), Casey McGinness (Covington Catholic), Wade Phillips (Edgewood), Sincere Wells (Xenia), Miyan Williams (Winton Woods).
WR: Michael Brown-Stephens (Springfield), Rae'Quan Prince (Winton Woods), Chris'Seon Stringer (Taft), Gavin Yoon (Lawrenceburg).
TE: Stefan Clarkson (Ryle), Joseph Hocker (Deer Park), Justin Stephens (Trotwood-Madison).
OL: Jonathan Allen (Dunbar), Carter Black (Covington Catholic), Hayden Bullock (Bellbrook), Luke Collinsworth (East Central), Chase Evans (Mason), Luke Lane (Lebanon), Spencer Voss (Clinton-Massie), Andy Weaver (Edgewood), Jaison Williams (Trotwood-Madison), Connor Woodrfuff (Summit Country Day).
DL: Anthony Booker (Winton Woods), JJ Courtney (Simon Kenton), Tanner Cromer (Reading), Adam Derry (Beechwood), Quinten Glover (Butler), Darrion Henry (Princeton), Ryan Mullaney (Moeller), Lonnie Phelps (Mount Healthy), Gabe Newburg (Northmont), Jalen Thornton (Indian Hill).
LB: Hasan Black (Wyoming), Garrett Bledsoe (La Salle), Matt Centers (Franklin), Alex Howard (Mount Healthy), Ra'Heim Moss (Springfield), Jayvanare Nelloms (Trotwood-Madison), Cam O'Gara (Wyoming), Nick Straw (Lebanon), Jaheim Thomas (Princeton), Max Wynn (Centerville).
DB: Barry Brown (Northwest), Kymetrius Gates (Winton Woods), Ryan Hall (Fairmont), Justin Harris (Wayne), Ryan Kerman (Little Miami), Jake O'Brein (Elder), Jakari Patterson (Colerain).
ATH: CJ Bensman (Dixie Heights), Jason Griffin (Batavia), Jeff Tolliver (Springfield), Trey Robinette (New Miami).
PK: Nick Bowman (Highlands), Kyle Farfsing (Harrison), Brady Henry (Wilmington), Brandon Walters (Centerville).
P: Eric Rosemeyer (East Central), Austin Weimer (Lawrenceburg).
RET: RJ Clesceri (Fenwick), Devon Hicks (St. Bernard), Garrett Trampler (Clinton-Massie).