2018 Snapshot: Covington Catholic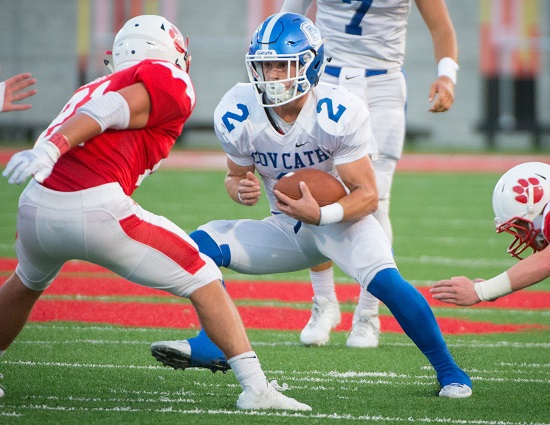 CovCath RB Casey McGinness (photo by Mitchell Cooke/TriStateFootball.com)
Coming off a KHSAA Class 5A state championship season expectations are elevated at Covington Catholic. Do the Colonels have enough in the tank make a run at another crown? On paper, yes. On the field, well that's where CovCath has to prove it's worthy.
The state title was the seventh for the program and first since 2006. The Colonels also won titles in '97, '94, '93, '88 & '87. For Eddie Eviston, it was his third ring in six seasons as a head coach. He won championships with Newport Central Catholic in '12 and '10.
Just how good were the Colonels on the field a year ago? The offense topped the 40-point mark, 12 times including in each of their last eight. They never scored less than 30 points in a contest. Covington Catholic's average margin of victory was 27.5 points per game (45.3 to 7.8). All 15 of CovCath's victories were by at least 21 points.

Class 5A, District 5
2017 RECORD: 15-0, 3-0 Class 5A, District 5 (KHSAA Class 5A State Champions)
COACH:  Eddie Eviston (29-12 at Covington Catholic, three years; 64-20 overall, six years)
HONOR ROLL
Michael Mayer, Jr, TE/DE – The best defensive player in Northern Kentucky whose's stock rising nationally. He tallied 79 total tackles, recovered a pair of fumbles, had 14 receptions for 232 yards and three touchdowns as a sophomore. That effort earned him Honorable Mention CJ All-Kentucky and First Team All-NKY accolades. Mayer has already verbally committed to Notre Dame.
Carter Black, Sr, OL – An Honorable Mention CJ All-Kentucky and First Team All-NKY honoree as a junior. He is the leader of the offensive line.
Grant Hemmer, Sr, OL – A returning starter, Hemmer was named First Team All-NKY in '17.
Jack Coldiron, Sr, WR/LB – A valuable asset on both sides of the ball for the Colonels. Coldiron averaged 24.3 yards on 28 receptions for 683 yards with 11 touchdowns, recorded 28 total tackles and had an interception as a junior. He was named First Team All-NKY for the work. The 6-foot-5, 210-pound athlete has verbally committed to Miami (OH).

Casey McGinness, Sr, RB – A two-time Second Team All-NKY selection, McGinness ran for 1,418 yards, had 24 receptions for 381 yards and found the end zone 26 times (22 rush, four rec) last fall. He is 902 yards away from becoming CovCath's all-time leader in rushing yards and five touchdowns away from being the first Colonel to have 50 in school history.
OTHER RETURNEES
Lucas Jones, Jr, OL – Expect Jones to really tap into his potential with a year as a starter under his belt.
Jackson Sora, Sr, OL – a returning starter on the o-line.
Trey Gronotte, So, K – Connected on an astounding 83 extra points and hit a pair of field goals for 89 points as a freshman.
Ross Halverstadt, Sr, OL/DL – A versatile big man who will make contributions on both sides of the line.
Jacob Shriver, Sr, LB – A returning starter, Shriver was in on 70 total tackles for the state champions. Shriver was also used in short yardage and goal line situations on offense. He scored five touchdowns (four rush, one rec) on 20 offensive touches.
Andrew Shelton, Sr, SS – A returning starter who is primed for a big year after missing games as a junior.
Tyler Reusch, Sr, QB – Was the primary backup for AJ Mayer last fall. Reusch only threw one pass but ran for 156 yards and two scores. He also had 10 total tackles and interception on defense.
NEWCOMER
Caleb Jacob, So, QB – Will contend for the starting job but may be a year away from really shinning.

2018 SCHEDULE
Fri – 8/18/18 at Ryle  7:30 PM
Fri – 8/24/18 vs Henry Clay at Lexington Catholic  6:00 PM (Bluegrass Bowl)
Fri – 8/31/18 at Cooper  7:30 PM
Fri – 9/7/18 KINGS (OH)  7:00 PM
Fri – 9/14/18 BEECHWOOD  7;00 PM
Fri – 9/21/18 at St. Francis De Sales (OH)  7:00 PM
Fri – 9/28/18 BYE
Fri – 10/5/18 at Bishop Chatard (IN)  7:00
Fri – 10/12/18 at Highlands  7:00 PM
Fri – 10/19/18 DIXIE HEIGHTS  7:00 PM
Fri – 10/26/18 CAMPBELL COUNTY  7:00 PM
EIGHT OR MORE
Six times in the last seven years CovCath has won eight games or more. They have 72 total victories (33 loses) since '10.