Big plays push Highlands past Cooper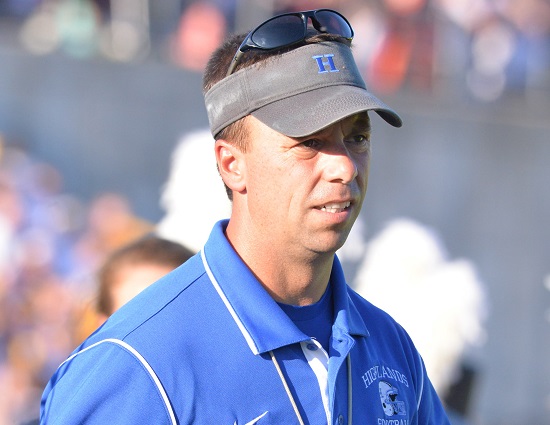 Highlands head coach Brian Weinrich (photo by Mike Noyes/TriStateFootball.com)
Four of the five touchdowns that Highlands scored were 32 yards or longer in its Week 0 win at Cooper. It was the fifth straight game that the Bluebirds have scored 34 points or more, dating back to last season.
Senior running back Cooper Schwalbach led the way for Highlands with 109 yards on 18 carries. Schwalbach, Nate Roberts and Joe Buten all had touchdown runs of 32-plus yards.
By no means was it a crisply played affair with both teams committing three turnovers. Cooner Bridges was the lone bright spot for the Cooper defense coming up with a fumble recovery and an interception.
Highlands 8-14-7-7-36
Cooper 0-7-0-0-0
H: Schwalbach 32 run (Huddleston run)
C: Armour 10 pass from Lee (Neltner kick)
H: Ahlfeld 44 pass from Cramer (Bowman kick)
H: Roberts 65 run (Bowman kick)
H: Schwalbach 2 run (Walz kick)
H: Buten 36 run (Walz kick)
RECORDS: Highlands (1-0); Cooper (0-1)
UP NEXT: Highlands at Campbell County (1-0); Cooper hosts Newport Central Catholic (1-0)