Preview: West Clermont at Hamilton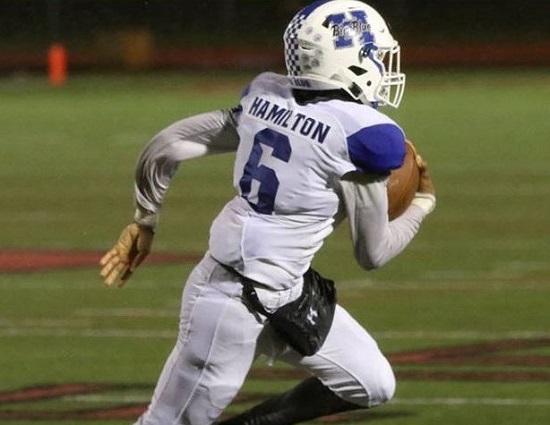 Hamilton QB Khaliyal Sowell (photo courtesy of ScoutingOhio.com)
High school football begins in Ohio and there is no better place to be a part of that Americana than Hamilton, on a Friday night, in the fall. The Big Blue will host West Clermont in our U.S. Marines Battle of the Gridiron Series to kick off play in the Buckeye state. A new season brings new hopes and dreams as the slate is wiped clean. Now it is up to the players to write their chapters in the history books.
WEST CLERMONT WOLVES (0-0) at HAMILTON BIG BLUE (0-0)
Kickoff: 7:00 p.m at Virgil M. Schwarm Stadium
Follow on Twitter @TSFootball
PLAYERS TO WATCH: West Clermont will line up and play smash-mouth football behind a line that features senior behemoths with the 6-foot-5, 270-pound OL Sam Weaver and 6-foot-4, 300-pound OC/OT/ Nick Miller "pancaking" the way. Weaver has an offer from Akron. Their classmates in the backfield, RB Ryan Cann and RB Jake Kilgore for a great one-two punch. Cann amassed 900 yards from scrimmage (664 rush, 236 rec) with five trips to the end zone and Kilgore led the team with 11 touchdowns (10 rush) in '17. The Wolves defense returns a pair of Honorable Mention All-Southwest District honorees in CB/RS Austin Price and DT/DE Joe Wahl. Price was a special team's weapon with 771 total return yards while averaging 26.8 per kickoff return and 13.9 per punt return. Leadership will also be provided by seniors LB Max Beckman and DB Lorenzo Jones. Weaver, Miller, Cann, Jones and Beckman were all Second Team All-ECC selections a year ago.
Hamilton is going to find out just how much better junior QB Khaliyal Sowell has become after a year as a starter, under his belt. Sowell accrued 1,254 yards of total offense 610 pass, 644 rush) and accounted for nine touchdowns (three pass, six rush) last fall.  He must take care of the football and cut down on his 15 turnovers for the Big Blue to take a step forward. Sophomore RB Keyshawn Stephens gained all 139 of his rushing yards as a freshman over the last three games of the year. He combined with Sowell to run for 351 yards in that span. The Hamilton defense is led by DL Ryan Ponder and DB Leondre Pope.
TEAM TRENDS: Four times in its last seven games (dating back to last season) West Clermont has played in games that were decided by eight points or less. The Wolves went 3-1 in those affairs. West Clermont played five teams that made the playoffs last fall. They were 1-4 in those contests.
Hamilton hasn't won more than three GMC games in a season since '10. The Big Blue went 0-5 against teams that made the playoffs last season. The average margin of defeat in those games was 24.2 points per game.
WEST CLERMONT'S KEYS TO VICTORY: The Wolves got a taste of the sweet life with a trip to the playoffs in the programs inaugural season. You can bet that they are hungry for more. With size, depth and experience West Clermont has many options. Look for them to wear down the Big Blue as the game progresses.
HAMILTON'S KEYS TO VICTORY: This is a young Big Blue squad. They have to play like upperclassmen. Hamilton's athleticism must shine through. Getting ahead early, on some dynamic plays, will boost the youngster's confidence. Building on early game success will make Hamilton a dangerous threat to the visiting Wolves the longer they hang around.
Prediction: WEST CLERMONT 28, HAMILTON 13