Highlands Blows by Ryle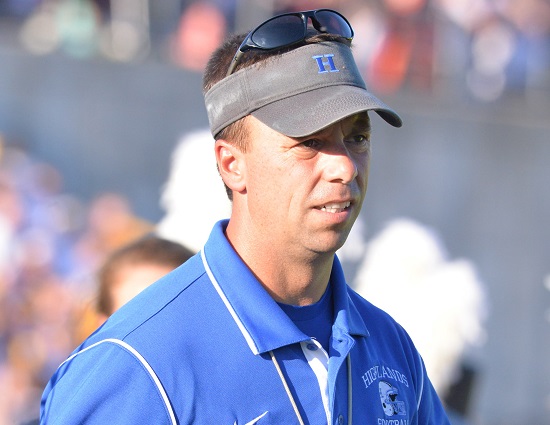 UNION, Kentucky – The Highlands Bluebirds continued their great start to the 2018 campaign by taking down the Ryle Raiders on the road, 40-3.
Highlands (3-1) had lost to Ryle (1-3) in each of the last three seasons, ceding 147 points across those three contests. The Bluebirds' defense held the Raiders to just three points and 82 of total offense while forcing five turnovers this time around.
Senior running back Cooper Scwalbach led the way for Highlands, rushing for 146 yards and a pair of touchdowns on 17 carries. Classmate Grady Cramer also found success through the air as he completed 13-of-26 passes for 153 yards, two touchdowns and an interception. Senior Nate Roberts pulled in one of those two TD passes and finished with four catches for 67 yards in the win.
HIGHLANDS 13-13-14-0-40
RYLE 0-3-0-0-3
H: Cooper Schwalbach 63 Yd Run (Failed Two-Point Conversion)
H: Jackson Hagedorn 24 Yd Interception Return (Bowman Kick)
R: Mason Molique 44 Yd field goal
H: Cooper Schwalbach 2 Yd Run (Bowman Kick)
H: Nick Bowman 38 Yd field goal
H: Nick Bowman 29 Yd field goal
H: Hunter Ahlfeld 39 Yd Pass From Grady Cramer (Bowman Kick)
H: Nate Roberts 33 Yd Pass From Grady Cramer (Bowman Kick)
RECORDS: Highlands (3-1); Ryle (1-3)
UP NEXT: Highlands at Lexington Catholic (4-0); Ryle at Campbell County (3-1)