Conner claims district crown in comeback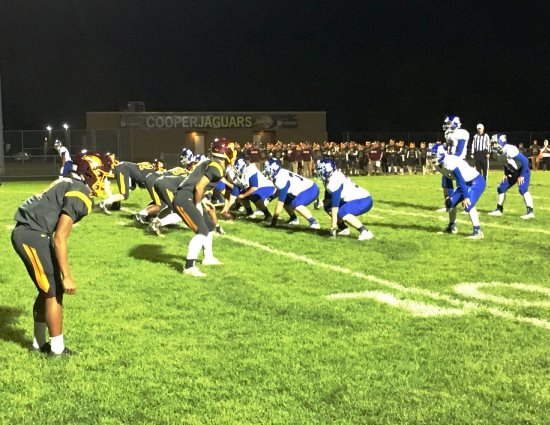 UNION, Kentucky – The Conner Cougars won the Class 6A, District 5 title by defeating the Cooper Jaguars 19-14 on Friday night in Union.
Cooper set the tone in the game early and opened up a 14-point lead, before eventually allowing Conner to come with 19 unanswered points.
Sophomore Jeremiah Lee scored on a 36-yard run in the opening frame to kick off the scoring and then he returned a fumble on defense from 12-yards out early in the second quarter to give the Jaguars a two-touchdown advantage.
The Cougars would get on the scoreboard before the half though when Lee was picked off by senior Tate Niederman, who returned it 70 yards for a touchdown. Cooper led 14-7 at the break.
@ConnerCougars defeats rival Cooper 19-14 to become Class 6A, District 5 CHAMPS! Congrats to our @mercy_health Most Valuable Player from the Cougars, Christian Webster! @ConnerHigh @ConnerCSection @ConnerATC pic.twitter.com/lI6p8kUIhU

— Crosstown Showdown (@xtownshowdown) October 20, 2018
Junior quarterback Jared Hicks rushed for a 13-yard TD in the third quarter, but the kick failed and left Conner trailing by one as the fourth quarter began. However, it would be long before senior Christian Webster gave the Cougars the lead for good when he plunged in a run from one yard out.
Webster finished the night with 113 yards and a touchdown on 21 attempts. Hicks only completed 6 of 17 passes for 37 yards, but did rush for 78 yards and a score on nine carries.
SCORING BY QUARTERS
Conner 0-6-7-6-19
Cooper 7-7-0-0-14
SCORING PLAYS
CP: Jeremiah Lee 36-yard run (Tori Neltner kick)
CP: Jeremiah Lee 12-yard fumble return (Tori Neltner kick)
CO: Tate Niederman 70-yard interception return (Teddy Schul kick)
CO: Jared Hicks 13-yard run (kick failed)
CO: Christian Webster 1-yard run (two-point conversion failed)
RECORDS: Conner (7-2); Cooper (3-6)
UP NEXT: Conner vs. Frederick Douglas (9-0); Cooper at Henry Douglas (5-4)
*Image from @xtownshowdown