EIAC Round-Up: Playoffs kick off with few surprises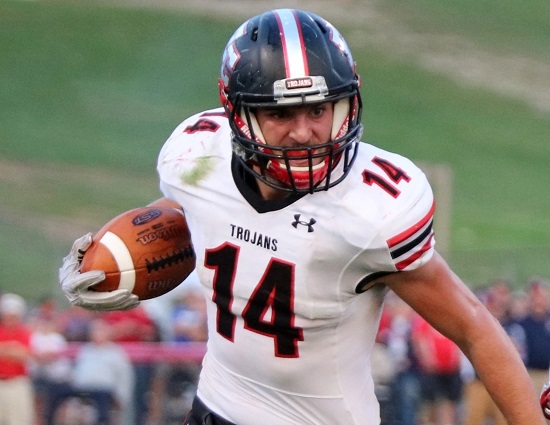 The 2018 postseason got underway on Friday night across the Hoosier State. Most of the first-round matchups in Eastern Indiana proved to be lopsided affairs. Here's a look at the Tri-state area teams prevailed.
CLASS 4A
East Central 41, Franklin County 6
East Central senior quarterback Alex Maxwell rushed for 125 yards and two touchdowns on 14 carries and threw a 21-yard TD pass to junior Dave Badescu. Senior running back Eric Rosemeyer amassed 154 yards and a touchdown on game-high 19 carries. Junior cornerback Chase Ludwig came up with a pair of interceptions to help lead the Trojans past EIAC foe Franklin County.
South Dearborn 48, Jennings County 16
South Dearborn continued its impressive 2018 campaign with a first-round playoff win over Jennings County. The Knights got out of the gate fast and had the contest in hand by the half when they took a 28-0 lead in the locker room. Dalton Guthrie, Landon Herzner, and David Blair all contributed two touchdowns each in the victory.
Up Next: South Dearborn at East Central next Friday night in St. Leon. East Central won this season's previous meeting, 42-12.
-Check out the Complete Bracket.
CLASS 3A
Lawrenceburg 22, North Harrison 14
The game was tied 6-6 entering the fourth quarter, but the final frame was filled with action as Lawrenceburg prevailed when senior Brenden Cox rushed for a 1-yard TD run with 22.5 seconds left to get the win. (WATCH REPLAY via SEI Local Sports).
Batesville 59, Greensburg 19
The Bulldogs raced out a 21-point lead eight minutes into the contest behind two Trey Heidlage touchdowns and never looked back as they breezed past Greensburg. Heidlage scored four first-half TD's in the win.
Up Next: Lawrenceburg at Batesville next Friday night. The Bulldogs beat the Tigers 33-30 in overtime earlier this season.
-Check out the Complete Bracket.