Fessler, Fenwick Run All Over Chaminade Julienne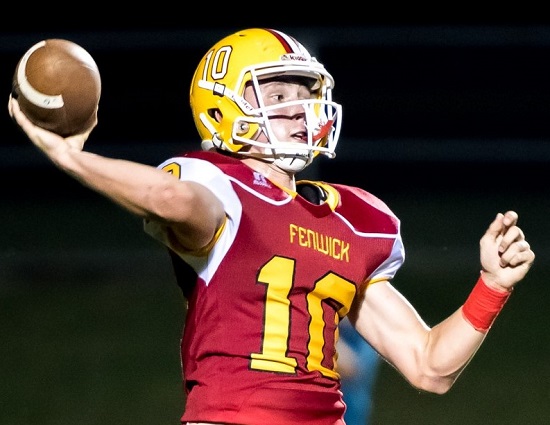 Fenwick QB Sully Janeck (photo by David Shelton/TriStateFootball.com)
FRANKLIN, ohio – For a second straight week Fenwick rode the legs of Jack Fessler to victory. The senior ran for 317 yards and three touchdowns on 19 totes as the Falcons ruined Chaminade Julienne's quest for perfection. Fenwick held the Eagles to a season-low 19 points. They had scored at least 35 in every game.
The Falcons racked up 533 yards of total offense (445 rush, 88 pass) as they dominated Chaminade Julienne up front. Sophomore Logan Miller added a career high 93 yards on seven attempts with a touchdown. Quarterback Sully Janeck threw for 88 yards with a scoring toss to Thomas Vogelsang.
Fessler has run for 596 yards, averaged 13.8/per carry, with eight trips to the end zone on 43 carries over the last two games. The senior pushed his season total to 1,115 yards and 15 touchdowns on the ground.
Despite the loss, the Eagles still got some solid performances. Freshman quarterback Luke Chandler had the best day of his young Eagles career with 261 yards through the air. Senior Dominic Wilcox had 10 receptions for 123 yards. Quincy Johnson ran for two scores, upping his total on the year to 12.
SCORING BY QUARTERS
Chaminade Julienne: 7-0-6-6-19
Bishop Fenwick: 13-14-0-7-34
RECORDS: Chaminade Julienne (6-1, 3-1); Bishop Fenwick (5-2, 3-1)
UP NEXT: Chaminade Julienne hosts Archbishop McNicholas (1-6, 0-2); Bishop Fenwick hosts Purcell Marian (4-3, 1-1).