Northmont Ends Springfield's Quest For Perfection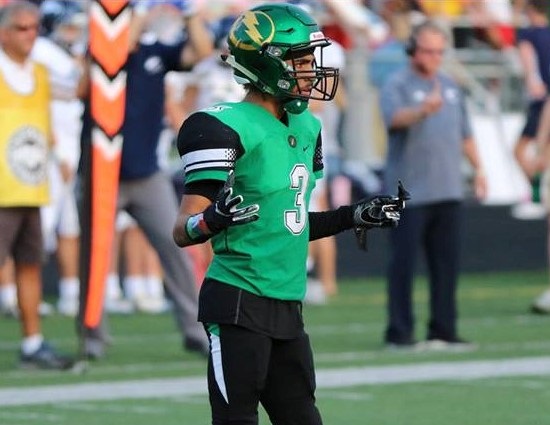 Northmont WR Drake Hickman (photo courtesy of ScoutingOhio.com)
CLAYTON, ohio – A smothering Northmont defense frustrated and stymied Springfield all night long as they handed the Wildcats their first loss of the season, 25-7. It was the fifth time this season that the Thunderbolts have given up 16 points or fewer in a game.
Northmont held the Wildcats to less than 100 yards on the ground and through the air (98 rush, 99 pass). They were excellent getting off the field, holding Springfield to just 4-17 on third and fourth down conversion attempts. The Thunderbolts push up front led to three sacks and a pair of interceptions. Senior Gabe Newburg and his younger brother, sophomore Eli Newburg each had a sack, for the first time together in a game.
The Northmont offense that found a way to overcome three turnovers. They shook off the miscues coming back from them with sustained drives and big plays. Unlike Springfield, the Thunderbolts were successful keeping drives alive converting 9-19 third and fourth down attempts. Quarterback Miles Johnson connected with Drake Hickman on 24 and 60-yard touchdowns passes. Hickman finished with four receptions and a game-high 107 yards receiving.
One play into the fourth quarter, Jestin Jacobs sealed Springfield's fate with a 59-yard touchdown run. Jacobs who is committed to Iowa, led all rushers with 80 yards (on six carries). The T-bolts senior has carried the ball 12 times for 151 yards and two scores in the last three weeks.
There are no unbeaten teams left in the GWOC. Five Division I, Region 3 GWOC teams are sitting at 4-1 (Northmont, Fairmont, Springfield, Miamisburg) after Friday night. Northmont is responsible for Springfield and Fairmont's only loss,
SCORING BY QUARTERS
Springfield 0-7-0-0-7
Northmont 0-12-7-6-25
SCORING PLAYS
N: Hickman 24 pass from Johnson (Goodwin kick)
N: Goodwin 28 field goal
N: Safety
S: Stephens 68 pass from Moss (Carey kick)
N: Hickman 60 pass from Johnson (Goodwin kick)
N: Jacobs 59 run (run failed)
RECORDS: Springfield (6-1, 1-0); Northmont (6-1, 1-0)
UP NEXT: Springfield at Beavercreek (1-6, 0-2); Northmont at Centerville (0-7)