Northmont Wins Ninth Game This Season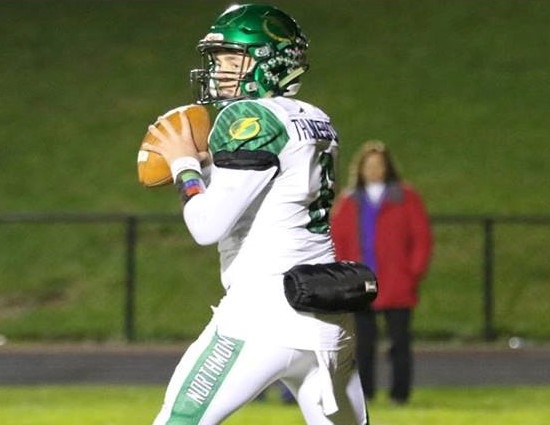 On another Friday night in the rain, Northmont defeats Miamisburg, 21-6, and finishes the regular season atop the GWOC National West division.
After a scoreless first half, Miamisburg scored first but missed the extra point, The Vikings only had the lead for 20 seconds after Northmont quickly answered on an 80-yard touchdown from quarterback Miles Johnson to Justin Golson, and kicker Brandon Goodwin kicked the extra point to take a 7-6 lead.
Northmont pushed the lead with six minutes left in the game when Michael Franklin broke tackles on a 49-yard touchdown run to take a one-score lead.
The Bolts defense stopped Miamisburg and on the ensuing Northmont possession, Franklin scored again on a 6-yard to run seal win and the division title.
Northmont finishes the season with nine wins and heads into the playoffs winning five straight games. Going into Friday the Bolts were ranked third in Division I, Region 3 behind Hilliard Davidson and Springfield. Northmont could possibly move to the second seed after Springfield lost to Fairmont Friday night.
Miamisburg's season is possibly continuing as the Vikings were ranked seventh in the same region as Northmont. There is a chance these two teams will have a rematch in the first round of the playoffs if Northmont moves up and Miamisburg stays as the seventh seed. Both teams will have to wait until Sunday morning to see their playoff matchups.
Northmont 0 0 7 14 21
Miamisburg 0 0 6 0 0 6
RECORDS: Northmont (9-1), Miamisburg (7-3)