Player of the Week: Week 7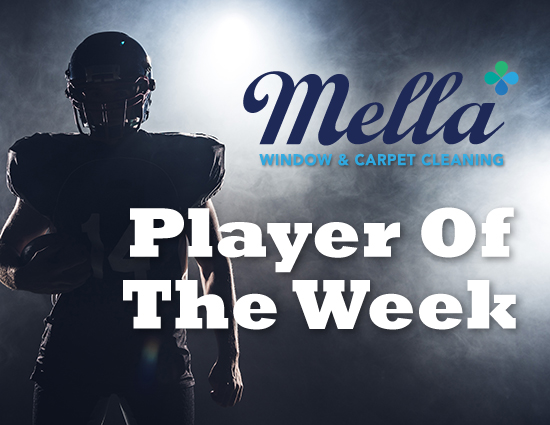 TriStateFootball.com is proud to present the Mella Window & Carpet Cleaning Player of the Week for the 2018 regular season. Players will be nominated from the Cincinnati, Dayton, Northern Kentucky and Eastern Indiana areas.
Each week a small group of nominees will be selected from a large list of some of the area's top performances and will be included in an online voting poll to determine a winner. The poll will launch weekly on Sundays. Voters can vote once per hour, per IP address through Wednesday at 12:00 PM Eastern weekly.
Once a player has won, they were ineligible to be nominated a second time. Players can only be nominated three times during the course of the season.
All of the season winners will be recognized and receive a plaque at the TriStateFootball.com Year in Review Show in February (more details announced during postseason).
+++
Take advantage of this internet special at Mella Window & Carpet Cleaning:


Whole house window cleaning $179 – COMPLETE DETAILS
+++
Here are this week's nominations…
Cole Baker, Reading, Sr, QB – Threw four first half touchdowns as Reading upset Mariemont, 38-13.
Matt Centers, Franklin, Sr, LB – Was in on 13 total tackles (seven solo), had a sack and three tackles for losses as the Wildcats cruised past Valley View.
Cole Dein, Indian Hill, Sr, QB – Had 145 yards passing on three completions (all for touchdowns), also carried the ball five times for 105 yards and a score as the Braves blew by Taylor.
Jack Dobrozsi, Lakota East, Sr, RB – Carried the ball 13 times for 240 yards and three scores as the Thunderhawks won the bragging rights of the
Ryan Hallau, Roger Bacon, So, DB – Tied a school record with three interceptions as the Spartans got by McNicholas for their first GCL Co-eds win of the season.
Darian Jackson, Lloyd, Sr, WR/DB – Recorded five solo tackles with three tackles for losses, a sack and had an interception as the Juggernauts shutout Newport, 30-0.
Michael Mayer, Covington Catholic, Jr, TE/DE – Had four receptions for 129 yards and two touchdowns also had a 76-yard pick six as the Colonels remained perfect after road win at Indianapolis Chatard.
Tyron Mincy, Mount Healthy, Sr, RB – In just his second game of the season, Mincy ran for 173 yards on nine carries with two touchdowns as the Owls up their record to 4-3.
Ashton Koller, Kings, Sr, QB – Ran for 132 yards with touchdowns of 85, 55 and 10-yards, also threw for 75 yards as the Knights best Walnut Hills.
Chris Payne, St. Xavier, Sr, RB – Came up big with 144 yards and two trips to the end zone on 13 totes as the Bombers found their ground attack in a 42-7 win over La Salle.
Joe Sergent, Simon Kenton, Sr, RB – Rushed for 70 yards and two touchdowns and return a punt 50 yards for another TD in 39-7 win over Boone County.
Justin Silverstein, Turpin, Jr, QB – Threw for career highs of 345 yards and four touchdown passes as the Spartans improved to 5-2.
Keyshawn Stephens, Hamilton, So, RB – Was a workhorse, carrying the ball 36 times for 257 yards and a touchdown as the Big Blue won a 15-14 thriller versus Middletown.
Kevin Thibodeau, Moeller, Sr, K – Kicked three field goals (28, 34 & 43-yards) including the game winner with 2;14 left in the Crusaders 24-21 win over Elder for the GCL South title.