Team of the Week: Week 7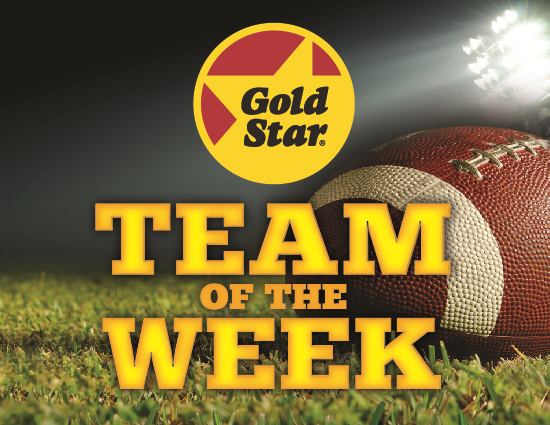 Gold Star Chili and TriStateFootball.com are partnering once this year to present the Gold Star Chili Team of the Week during the 2018 regular season. Each week 8-10 schools will be nominated from the Greater Cincinnati area to be included in an online voting poll to determine a winner.
The voting is open now until Wednesday afternoon at 12PM Eastern. Voters can vote once per hour, per IP address.
Once a team has won, they were ineligible to be nominated a second time. All of the winning teams will receive a trophy to be presented at their school by Gold Star Chili. Teams can only be nominated three times during the course of the season.
+++
Take advantage of the TSF-only deal at Gold Star this week:

Free Drink with the purchase of any Double Decker – PRINT COUPON
+++
Here are this week's nominations:
ANDERSON (5-2)
The Redskins knocked off West Clermont 42-28 to pick up their fifth win of the season.
CAMPBELL COUNTY (5-2)
The Camels got a huge win by taking down a red-hot Conner team, 13-9.
CLERMONT NORTHEASTERN (5-2)
The Rockets are flying high after grabbing a 24-21 win over Bethel-Tate.
COLERAIN (7-0)
The Cardinals picked up their 72nd consecutive win inside the GMC by taking down Mason, 42-7.
COVINGTON CATHOLIC (7-0)
The Colonels picked up their 22nd straight win in a 52-36 road victory vs. Bishop Chatard.
FENWICK (5-2)
The Falcons handed Chaminade-Julienne its first loss of the season with a key 34-19 GCL Co-Ed win.
GOSHEN (5-2)
The Warriors grabbed their fourth victory in a row with a 48-28 win over Wilmington.
MOELLER (6-1)
The Crusaders clinched the GCL South title in a 24-21 victory over Elder at Nipper Stadium.
MOUNT HEALHTY (4-3)
The Owls won their third straight contest by taking down Talawanda, 56-21.
WESTERN HILLS (5-2)
The Mustangs won their fifth straight game as they took down Woodward, 28-19.