Team of the Week: Week 9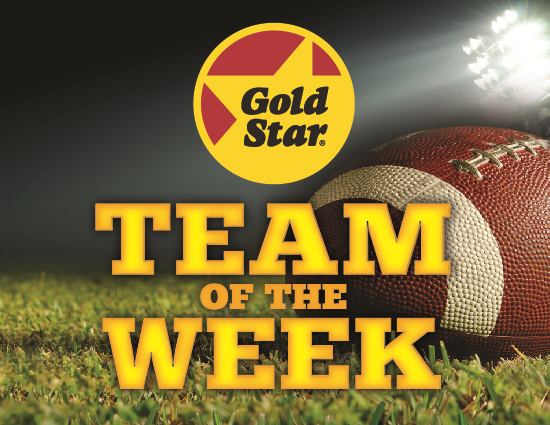 Gold Star Chili and TriStateFootball.com are partnering once this year to present the Gold Star Chili Team of the Week during the 2018 regular season. Each week 8-10 schools will be nominated from the Greater Cincinnati area to be included in an online voting poll to determine a winner.
The voting is open now until Wednesday afternoon at 12PM Eastern. Voters can vote once per hour, per IP address.
Once a team has won, they were ineligible to be nominated a second time. All of the winning teams will receive a trophy to be presented at their school by Gold Star Chili. Teams can only be nominated three times during the course of the season.
+++
Take advantage of the TSF-only deal at Gold Star this week:

$1 OFF GOrito – PRINT COUPON
+++ –
BADIN (6-3)
The Rams looked impressive in their 38-21 defeat of Chaminade-Julienne in a key GCL Co-Ed bout.
BEECHWOOD (7-2)
The Tigers wrapped up another perfect run the district by taking down Dayton, 62-6.
COLERAIN (9-0)
The Cardinals clinched their 19th straight GMC title and 74th straight conference game as they took down Fairfield, 55-27.
HARRISON (6-3)
The Wildcats got a huge SWOC win to bolster their playoff resumes by defeating Mount Healthy, 38-14.
LAWRENCEBURG (5-5)
The Tigers scored the go-ahead TD in the final minute as they beat North Harrison 22-14 to advance to Round 2 of the playoffs.
MILFORD (7-2)
The Eagles kept their post-season aspirations going as they held off a stingy West Clermont squad, 23-21.
MVCA (7-1)
The Lions shut out their third team in four games as they took down North College Hill, 57-0.
NEWPORT CENTRAL CATHOLIC (4-5)
The Thoroughbreds claimed their first district title since 2015 as they knocked off Newport 40-12.
SCOTT (5-4)
The Eagles finish tied atop the district standings with a key district win over Holmes, 40-6.
WINTON WOODS (8-1)
The Warriors won their eighth consecutive game by doubling up St. Franics DeSales, 28-14.