Player of the Week: Week 9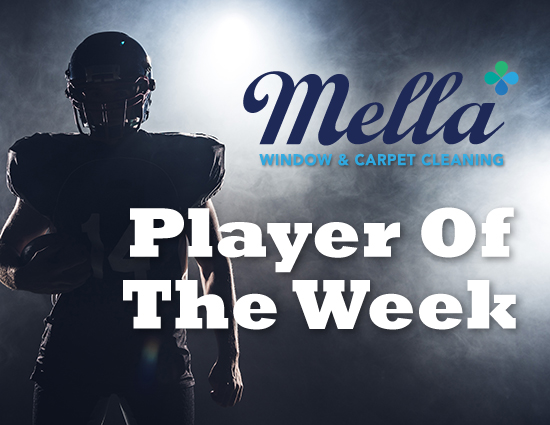 TriStateFootball.com is proud to present the Mella Window & Carpet Cleaning Player of the Week for the 2018 regular season. Players will be nominated from the Cincinnati, Dayton, Northern Kentucky and Eastern Indiana areas.
Each week a small group of nominees will be selected from a large list of some of the area's top performances and will be included in an online voting poll to determine a winner. The poll will launch weekly on Sundays. Voters can vote once per hour, per IP address through Wednesday at 12:00 PM Eastern weekly.
Once a player has won, they were ineligible to be nominated a second time. Players can only be nominated three times during the course of the season.
All of the season winners will be recognized and receive a plaque at the TriStateFootball.com Year in Review Show in February (more details announced during postseason).
+++
Take advantage of this internet special at Mella Window & Carpet Cleaning:

Whole house window cleaning $179 – COMPLETE DETAILS
+++
Here are this week's nominations…
Dimetrious Baylor, Indian Hill, Sr, RB – Found the end zone five times on 12 totes for 212 yards as the Braves scalped Deer Park, 55-21.
Dylan Caldwell, Ross, Sr, RB – Carried the ball 18 times for 213 yards with four trips to the end zone as the Rams battered Meadowdale.
Reece Evans, Turpin, Jr, RB – In an 11 minute span between the first and second quarters Evans had touchdown receptions of 55, 44, 46-yards and a short touchdown run to break open the Spartans game versus Withrow.
Jared Kelsay, Scott, Sr, LB – Tallied seven tackles, forced three fumbles, recovered a fumble, blocked a punt and had half of a sack as the Eagles won a share of the Class 4A, District 7 title.
Jackson Leahy, Lakota East, Sr, DB – Record 10 solo tackles and had a 32-yard pick six in the Thunderhawks handling of Hamilton.
Travon Mason, Lloyd, Sr, RB – Ran for 248 yards with four touchdowns on 13 totes as the Juggernauts rolled past Holy Cross.
Luke Masminster, Elder, Sr, RB – Became just the fifth Panther in program history to have five touchdowns in a game while also running for 142 yards as Elder knocked off Vianney (MO).
Ivan Pace, Jr., Colerain, Sr, RB/LB – Did it all for the Cardinals, running for 180 yards and four touchdowns on 17 attempts, recorded 10 total tackles six solo) with a forced fumble as Colerain took out Fairfield.
Nate Roberts, Highlands, Sr, WR – Hauled in in six receptions for 142 yards and a pair of scores as the Bluebirds notched their seventh win of the season.
Kievaughn Sanks, Aiken, Sr, WR/DB – Had a huge interception and a touchdown reception in the first half to set the tone for the Falcons as they shutout Hughes.
Brayden Sipple, Blanchester, So, QB – Set the school record for passing yards in a season as the Wildcats beat Fayetteville-Perry to capture their second SBAAC National championship in the last three years.
Ian Vallandingham, Ludlow, Jr, QB – Threw for a pair of scores and had a 90-yard touchdown run as the panthers got past Bellevue, 36-13 to earn a first round playoff home game.
Gabe VanSkaik, Reading, Sr, WR/DB – Snared two interceptions including an 80-yard pick six and recorded nine solo tackles in the Blue Devils victory over Taylor.
Elijah Williams, Edgewood, Sr, RB – Was a workhorse with 25 carries for 102 yards and two touchdowns as the Cougars took home a big 20-0 SWOC win over Little Miami.