Wayne Edges Fairmont in Fourth Quarter Comeback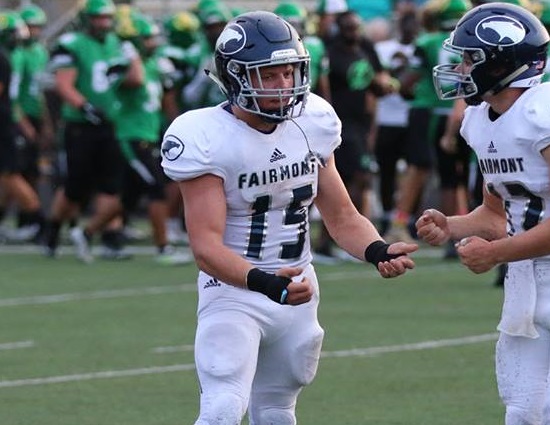 Fairmont RB Jessie Deglow (photo courtesy of ScoutingOhio.com)
Wayne edges Fairmont, 49-44, at home in a conference matchup between two teams atop the GWOC National East division.
The Warriors scored 22 points in the fourth quarter to win their fourth straight game. Fairmont was ahead by 11 points heading to the fourth quarter, but junior Devin Nelson scored two of his five rushing touchdowns on the night and Steven Victoria caught a seven-yd pass from senior Rashad McKee to capitalize in the final 12 minutes of the game.
McKee and Nelson led the Warriors' offense. McKee threw for 226 yards and two touchdowns and ran for 93 yards. Nelson led the team with 98 yards on 18 carries to go with his five touchdowns.
Wayne took an early 20-0 lead in the second quarter, but Fairmont crawled its way back in the game 35 straight points. They scored four touchdowns in the second quarter to take a 28-20 lead into halftime. Fairmont's largest lead came early in the third quarter when senior Jesse Deglow scored on a four-yard run. Deglow had 278 yards and five touchdowns in the loss.
The 15-point deficit was not enough for Wayne to throw in the towel. The veterans, including Nelson and McKee helped the Warriors score four touchdowns in two quarters to earn their fourth straight win.
Despite the loss Fairmont gained 534 yards but allowed 439 yards. This loss ends Fairmont's five-game win streak. This was also the first game allowing 40-plus points.
Fairmont will look to avenge the loss with a home game next Friday against Centerville. Wayne will head on the road to Springfield.
SCORING BY QUARTERS
Fairmont 0 28 10 6 44
Wayne 14 6 7 22 49
SCORING PLAYS
W: Born 10-yd catch from McKee (Hawley PAT)
W: Nelson 3-yd run (Hawley PAT)
W: Nelson 9-yd run (PAT FAILED)
F: Deglow 73-run (Rohm PAT)
F: Deglow 8-yd run (Rohm PAT)
F: Deglow 8-yd run (Rohm PAT)
F: Deglow 71-yd run (Rohm PAT)
F: Deglow 4-yd run (Rohm PAT)
W: Nelson 6-yd run (Hawley PAT)
F: Rohm 23-yd FG
W: Victoria 7-yd catch from McKee (Brown RECP)
W: Nelson 13-run (Hawley PAT)
W: Nelson 6-yd run (Hawley PAT)
F: Hall 20-yd catch from Miller (PASS FAILED)
RECORDS: Fairmont (6-2, 1-1), Wayne (6-2, 3-0)
UP NEXT: Fairmont hosts Centerville (0-8, 0-2), Wayne visits Springfield (7-1, 2-0)