2018 Playoff Capsule: Division I, Region 4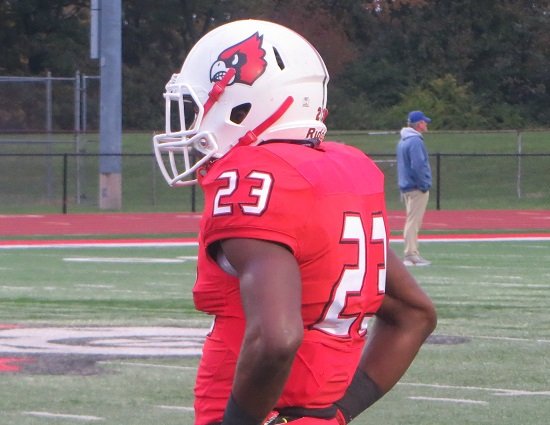 Colerain RB JJ Davis (photo by Greg Shoemaker/TriStateFootball.com)
Three surprising victors and one who took care of business as usual create the Division I, Region 4 semi-finals landscape. Lakota East and Milford are playing with house money at this point after upsets last Friday. Elder shuts out league rival and GCL South champ, Moeller, 35-0 in an "I didn't see that coming" game. Colerain left little doubt about this being their tournament to win after disposing of St. Xavier rather handily. Will the favorites prevail? Or will we have more havoc? No matter what happens, it should be an entertaining second round of the playoffs.
**All games start 7 p.m. Friday, November 9th
THE BRACKET
RESULTS
Regional Quarter-finals
#1 Colerain 35, #8 St. Xavier 9
# 4 Milford 39, #5 Fairfield 35
#7 Lakota East 20, #2 Mason 17
#3 Elder 35, #6 Moeller 0
Regional Semi-finals matchups
#1 Colerain (11-0) vs. #4 Milford (9-2)
#3 Elder (7-4) vs. #7 Lakota East (7-4)
PLAYOFF HISTORY
Colerain: (21st appearance, 39-21) – 2018 (Regional Champion), 2017, 2016 2015, 2014, 2013, 2012, 2011, 2010, 2008, 2007, 2006 (Regional Champion), 2005, 2004 (State Champion), 2003, 2002, 2001, 2000 (Regional Champion), 1998, 1995 (2 wins forfeited), 1994 (Regional Champion)
Elder: (20th appearance, 33-17) – 2018, 2016, 2015, 2014, 2013, 2012, 2009, 2008 (State Runner-up), 2007, 2004, 2003 (State Champion), 2002 (State Champion), 2001, 2000, 1999, 1996, 1995 (gained 1 win due to forfeiture), 1991, 1989, 1988
Lakota East: (third appearance, 3-2) – 2018, 2014, 2012
Milford: (third appearance, 1-2) – 2018, 2017, 1986
THE COACHES
Colerain: Tom Bolden (126-19 at Colerain, 12th season; 126-19 overall)
Elder: Doug Ramsey (176-80 at Elder, 23rd season; 176-80 overall)
Lakota East: Rick Haynes (51-44 at Lakota East, ninth season, 51-44 overall)
Milford: Tom Grippa (17-4 at Milford, second season; 191-103 overall, 28th season)
WHAT YOU SHOULD KNOW
Colerain is making its eighth straight playoff appearance. Friday's win over St. Xavier made the Cardinals 20-0 in first round playoff games (the 1995 first round win was later forfeited). This is the 10th straight season that Colerain has had a winning streak of eight games or more. The Cardinals defense has given up nine points or less eight times including four shutouts. They have forced 27 turnovers (15 FRs, 12 INTs) of which four have been returned for touchdowns (three FRTDs, one IRTD). The Colerain offense averages 301.7 yards per game on the ground with 42 rushing and 16 passing touchdowns.
The program has been incredibly consistent under Tom Bolden going 126-19 in his 12 seasons at the helm. The Cardinals have lost only nine regular season games under his watch. The other 10 of Bolden's 19 career losses have come in the playoffs. Eight of his career losses have come at the hands of St. Xavier (four in the playoffs). Six times Colerain has gone unbeaten during the regular season under Bolden's watch.
Milford won its first ever playoff game last Friday versus Fairfield. They have given up 20 points or more seven times in their last nine games. The Eagles have turned the ball over 24 times on the season (-1 turnover margin) including 10 times in the last four games. Seven times in their last 10 tilts Milford has lit up the scoreboard with 39 points or more.
Elder has given up just 17 combined points during its current three game winning streak (Vianney (MO), La Salle, Moeller). They haven't won four in a row since September of 2016. The Elder defense 10 takeaways and a +6 turnover margin in that span. The Panthers are 3-3 in games decided by eight points or less. However, they have dropped three of the last four of those affairs. The offense has only lost two fumbles all year and scored at least 30 points on six occasions.
Lakota East is on a three-game winning streak. The Thunderhawks haven't won four in a row since starting 2014, 5-0. In their six wins (not including the Princeton forfeit) before their three-point triumph last Friday against Mason, Lakota East's average margin of victory was 31.8 points. The offense has 42 rushing touchdowns on the year.
WHO YOU SHOULD KNOW
#1 COLERAIN
Deante Smith-Moore, Sr, QB – It has been a breakout senior season. Smith-Moore has accrued 1,879 yards of offense (809 pass, 1,070 rush) and accounted for 29 touchdowns (16 pass, 13 rush). He only has two interceptions.
Ivan Pace Jr., Sr, RB/LB – Coach Bolden calls Pace Jr., "the best player in the GMC." He has a great argument. Pace Jr. was named the 2018 GMC Defensive Player of the Year. On defense, the senior has tallied 60 total tackles (33 solo) with four-and-a-half-sacks, four forced fumbles, two fumble recoveries and a scoop and score. He has also run for 956 yards (8.3/carry) with 17 rushing touchdowns and one receiving score on six receptions for 152 yards.
JJ Davis, Sr, RB/DB – The top receiver for the Cardinals with 12 receptions for 280 yards and five touchdowns. Davis has amassed 1,049 all-purpose yards including 469 yards rushing and seven more scores rushing.
Luke Bolden, Sr, LB – A sure tackler and who has made himself an excellent cover guy this season. He leads the Cardinals in tackles (77) and interceptions with three. Bolden is verbally committed to Miami (OH)
Deshawn Pace, Jr, DB – Knows how to find the football. Over the past two years Pace has come up with 10 takeaways (six INTs, four FRs).
# 4 MILFORD
Cameron Kells, Sr, RB – The ECC Offensive Player of the Year. Kells has, 2,027 all-purpose yards and 1,578 yards with 29 touchdowns rushing. No other Eagle has more than 60 yards on the ground this season. Kells also has 33 receptions for 339 yards and four touchdown catches.
Conner Foster, Sr, TE – The 6-foot-8, 285-pound senior can block and catch. Foster has 16 receptions for 275 yards and four touchdowns, He has verbally committed to Northwestern.
Jake Ayler, Sr, WR – Mr. Do-it-all for the Eagles. Ayler has 49 receptions for 714 yards, 856 all-purpose yards and 10 total touchdowns (five rec, four rush, one punt ret).
Hunter Johnson, Jr, QB – Has had a great first year as a starter with 2,458 yards and 24 touchdowns tosses.
Dylan Hughes, Sr, WR – A big play threat, Hughes has reeled in 46 catches for 832 yards with nine scores and has 1,119 all-purpose yards.

#3 ELDER
Michael Bittner, Sr, QB – The 2018 GCL South Offensive Player of the Year. Bittner has amassed 2,961 yards of offense (2,331 pass, 630 rush) and accounted for 27 touchdowns (16 pass, 11 rush).
Kyle Tischler, Sr, WR – Less than 50 yards away from being the Panthers all-time leader in receiving yards. Trischler has caught 64 balls for 834 yards and eight touchdowns.
Joe Royer, Jr, TE – A big target at 6-foot-5, Royer has 31 receptions for 612 yards and five touchdowns.
Jake Hoffmyer, Sr, LB – Leads the Panthers with 95 total tackles also has two sacks, one fumble recovery and an interception.
Spencer Bono, Sr, DE – Has recorded 58 total tackles with nine sacks and a fumble recovery. Bono has verbally committed to Boston College.
#7 LAKOTA EAST
Jack Debrozsi, Sr, RB – A real throwback and grinder. Debrozsi has run for 1,180 yards (of which 675 have come in the last five weeks) with 21 trips to the end zone.
Sean Church, Sr, QB – Has racked up 1,449 yards of total offense (764 pass, 885 rush) and accounted for 18 touchdowns (13 rush, five pass).
Michael Howard, Jr, LB – Leads the Thunderhawks with 86 total tackles (46 solo) also has a sack, two forced fumbles and two picks.
Justin Katona, So, LB – Great varsity debut has seen Katona get in on 65 total tackles and recover three fumbles.
Adam Hundemer, Jr, LB – Recorded 46 total tackles with a sack, two fumble recoveries and an interception.