Anderson rallies past Troy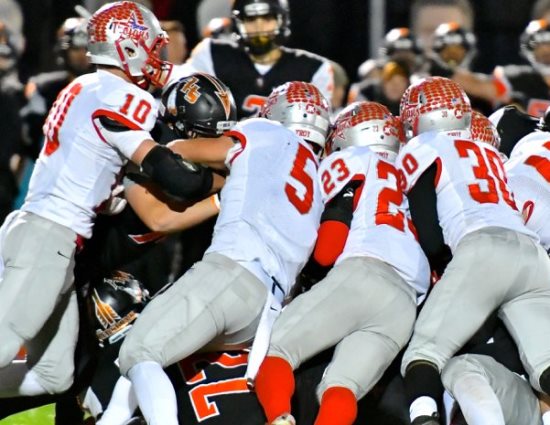 MIAMISBURG, Ohio – Despite getting down big early, the Anderson Redskins rallied to knock off the Troy Trojans 38-35 in the second round of Ohio Division II, Region 8 playoffs Friday.
Troy (10-2) led by 14 points early in the game and was up 28-17 at the half, but Anderson (9-3) adjusted and won the game with a strong second half performance.
Trojan running back Jaydon Culp-Bishop scored the game's first two touchdowns before Anderson cut the lead in half with a 1-yard quarterback keeper by David Thompson.
Culp-Bishop didn't let the Redskins celebrate too long as he took the ensuing kickoff 85 yards to the house to give Troy a 21-7 lead. He had a huge night, finishing with 176 yards on 34 carries and four rushing touchdowns.
Once again the Redskins were able to answer though as they drove 61 yards on 11 plays and capped it off with another Thompson rushing touchdown.
Troy went back to the well and took another two-touchdown lead when Cult-Bishop came up with third rushing touchdown, scoring from nine yards out.
Willie Johnson drilled a 34-yard field goal before the half to cut the deficit to 11.
After scoring 28 points in the first half, Troy was held to just seven points in the second half. The Redskins didn't have that problem, scoring three touchdowns in the second half.
Anderson sealed the win with its defense though. They were leading 38-35, but the Trojans weren't going to go away easily. They were driving to try to at least tie the game in the final minutes of the fourth quarter and got all the way to Anderson's 30-yard line before Brayden Siller had his pass intercepted by Redskins' senior Conner Brondhaver. The pick sealed the deal.
The game marked the third straight year these two have matched up in the playoffs. Anderson has now won the last two after falling in the first meeting.
Up next, the Redskins will face Winton Woods in next week's regional championship.
*Image from Twitter (@PressProsMag)