Alter advances to D-III semi-finals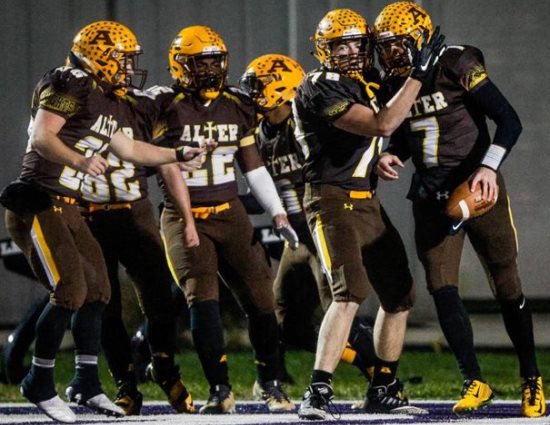 PIQUA, Ohio – The Alter Knights controlled the clock and played tenacious defense as they led from start to finish in 21-7 victory over the Wapakoneta Redskins in Friday's Ohio Division III Regional Championship.
Alter took six plays on their first drive to get on the scoreboard as quarterback Connor Bazelak rushed for a 5-yard touchdown with 3:24 left in the 1st.
The teams turned over possessions a couple times and it appeared the Redskins were going to tie the game up late in the second half, but they fumbled on a first-and-goal from the Knights' 6-yard line and Alter recovered and took a 7-0 lead into the locker room.
Bazelak connected with Derek Willits on a long TD passing play with 5:33 left in the third quarter to get the lead to 14-0.
Once again Wapakoneta was on the way to answering the call and drove to the Alter 28-yard line before turning it over on downs.
The Knights would make them pay. Running back Branden McDonald scored on a 1-yard TD run to make it 21-0.
An Alter fumble helped give the Redskins a chance late to end the shutout as Evan Kaeck scored on a 5-yard run.
The Knights move on to play on Thanksgiving Day in the OHSAA state semi-finals against a TBD opponent.
RECAP
Wapakoneta 0-0-0-7-7
Alter 7-0-7-7-21
A: C. Bazelak 5-yard TD run (Jack Ruffolo kick)
A: D. Willits xx-yard pass from C. Bazelak (Jack Ruffolo kick)
A: B. McDonald 1-yard TD run (Jack Ruffolo kick)
W: E. Kaeck 5-yard run (kick good)
RECORDS: Wapakoneta (11-2); Alter (12-1)
UP NEXT: Alter vs. TBD
*Image from Twitter (@ALTERGOLDRUSH)