2018 All-EIAC Teams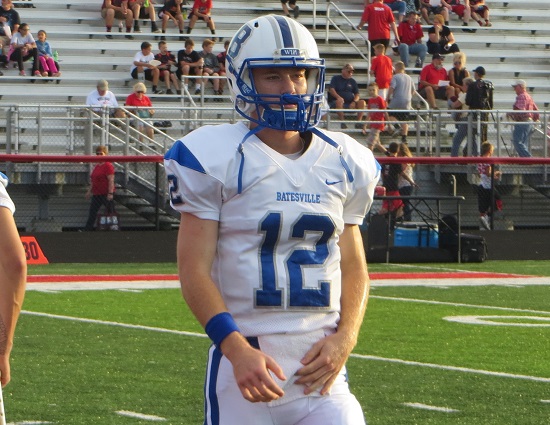 Batesville QB Trey Heidlage (photo by Greg Shoemaker/TriStateFootball.com)
It was a joyous family celebration for the Eastern Indiana Athletic Conference 2018 divisional players of the year, Trey Heidlage (3A) and Alex Maxwell (4A). The cousins capped off great careers, carving out their chapters in the history books of their programs.
Heidlage was named the EIAC 3A Offensive MVP for a second straight year after helping Batesville to a 9-3 record. He finished his senior season with 2,148 yards passing, 21 touchdowns passing, 1,475 rushing yards 28 rushing touchdowns, two receptions, 50 receiving yards, one receiving touchdown, 24 total tackles and two interceptions. Heidlage shattered most of the passing records at Batesville with 4,561 yards and 43 touchdowns through the air at the varsity level. The four-year letter winner also ran for 2,888 yards, had 50 rushing scores, 34 receptions, 324 receiving yards, one touchdown catch, 3,452 all-purpose yards, 68 total tackles and four interceptions in a Bulldogs uniform.
Maxwell set the East Central record for career rushing touchdowns with 68. He finished his final campaign with 3,408 yards of total offense (1,164 pass, 1,244 rush), 29 rushing touchdowns and nine passing scores for the 11-2 Trojans.  In his four years as a letter winner East Central went a combined 18-3 in the playoffs with four sectional crowns, three regional championships, a state runner-up finish in 2015 and the IHSAA Class 4A state title in '17. Maxwell amassed 6,567 yards of total offense (2,716 pass, 3,851 rush) and accounted for 92 touchdowns (24 pass, 68 rush) as a Trojan.
Senior, Owen Lunsford was a catalyst for the South Dearborn defense with more than 90 total tackles, six interceptions, two forced fumbles, a blocked punt and a blocked field. The Knights finished 8-3 and allowed just 11.2 points per game. Lunsford garnered the EIAC 4A Defensive MVP for his effort. Heidlage's classmate Adam Bedel was named the EIAC Class 3A Defensive MVP after getting in on 140 total tackles with 21.5 tackles for losses, 4.5 sacks, three forced fumbles and three fumble recoveries.
Here is a look at the 2018 EIAC All-Conference Teams:
DIVISION 4A
Connersville: Jacen Beckman
East Central: Alex Maxwell, Gaar Ertel, Gage Ertel, Eric Rosemeyer, Cole Rosfeld, Kole Viel, Devon Donawerth, Trevor Becker, Michael Medlock, Brett Fox, Luke Collinsworth, Caden Browndyke, Chase Ludwig
Franklin County: Luke Moster, Augustus Runyon, Kyle Spurlock
South Dearborn: Owen Lunsford, Trey Thies, Axel Bell, Tristan Rinehart, Ethan Getz, Zach Dick, Austin Terrill, David Blair, Kyle Vanguelpen
Offensive MVP:  Alex Maxwell, East Central
Defensive MVP: Owen Lunsford, South Dearborn
Team Champs:  East Central
Coach of the Year:  Don Stonefield, East Central
DIVISION 3A
Batesville: Trey Heidlage, Adam Bedel, Austin Siefert, Charlie Dice, Sam Bowman, Alex Love, Brayden Linkel, Tyler Meyers, Nate Salvin
Greensburg: Joey Woods, Clint Lorenz, Aaron Black, KAL'el Dickson, Aron Moeller
Lawrenceburg: Jalen Parks, Dalton Dixon, Andrew Rennekamp, Gavin Yoon, Garrett Yoon, Marshall Kinnard
Rushville: Cameron Craig, Grant Hill, Duncan Draper, Nick Komlanc, Mason Springman, Hunter Applegate
Offensive MVP: Trey Heidlage, Batesville
Defensive MVP: Adam Bedel, Batesville
Team Champs:  Batesville
Coach of the Year: Evan Ulery, Batesville