Bolden bolts Colerain for Lakota West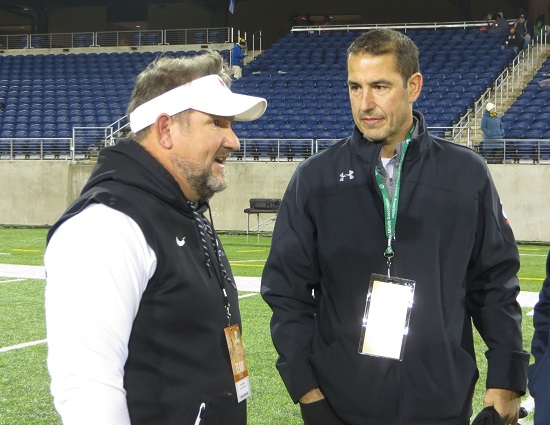 New Lakota West head coach Tom Bolden (L) talks with University of Cincinnati head coach Luke Fickell (R). (photo by Greg Shoemaker/TriStateFootball.com)
Lakota West High School made it official Wednesday night announcing Tom Bolden as its next football head coach. Bolden leaves Colerain (his alma mater) after 12 seasons as the Cardinals front man. He replaces Jeff Wadl who was the Firebirds interim head coach in 2018. The move was surprising to everyone but Bolden and Lakota West athletic director, Scott Kaufman.
Bolden comes in with some very impressive credentials. He posted a 132-21 in a dozen seasons at Colerain. His Cardinals were in the Ohio state semi-finals three times in the last four years (including a state runner-up finish in 2018), a feat that has only been accomplished by four other Cincinnati-area schools in the last 30 seasons – Princeton (1987, '88 & '90), Clinton-Massie (2013, '12 & '11 ), Moeller (2014, '13 & '12) and La Salle (2016, '15 & '14). Colerain went a combined 77-1 in Greater Miami Conference games with 12 league titles under Bolden.
Wins have been hard to com by for Lakota West over the past three years. The Firebirds have gone 8-22 in that span. Their last playoff appearance was in 2014.
The good news for Bolden is that Lakota West does have talent with the likes of RB David Afari and LB Daved Jones leading the way. The bad news is that the Firebirds have scored seven points or less 17 times in their last 28 games. They have not thrown a touchdown pass since Week 9 of 2016. It will be interesting to see how fast Lakota West will adjust to a new offense implemented by Bolden in '19.