TSF 2018 Cincinnati DPOY: Ivan Pace Jr.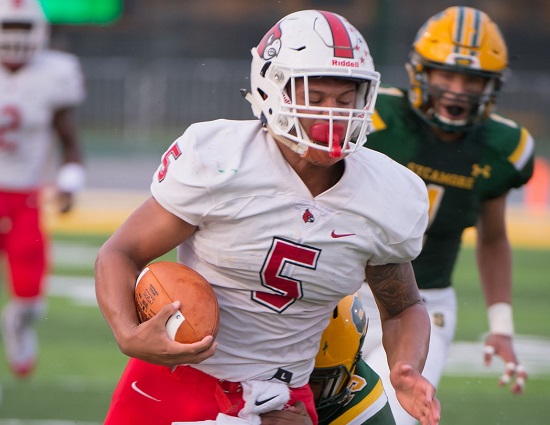 Colerain RB/DB Ivan pace Jr., the Ohio 2018 Division I DPOY & TSF Cincy DPOY. (photo by Mitchell Cooke/MAC foto)
Whether it was on offense or defense Colerain (14-1) senior Ivan Pace Jr. was running downhill and through people all season long. Pace Jr. was named the 2018 TriState Football Cincinnati Defensive Player of the Year as TSF paid tribute to the finest from Cincinnati, Northern Kentucky, Dayton and Southeast Indiana at its Year in Review Show on Monday night at the Holy Grail – Banks, downtown Cincinnati. The Cardinals finished the year as the Division I state runner-up.
Pace Jr. tallied 80 total tackles, recorded six sacks, forced four fumbles, recovered two fumbles and had a 44-yard pick six for the Colerain defense. On offense, he ran for 1,441 yards and found the end zone 23 times (22 rush). Pace Jr. earned OPSWA Ohio Division I DPOY and First Team All-TSF honors for his efforts. He finishes his career with 2,425 yards rushing, 203 total tackles, 16.0 sacks, five forced fumbles, four fumble recoveries, one interception and 43 touchdowns (39 rush, one rec, two FR, one IR). Ivan will play football for Miami (OH).
Other 2018 TSF Cincinnati Defensive Player of the Year finalists included seniors Hasan Black (Wyoming), Spencer Bono (Elder), Anthony Booker (Winton Woods), Jowon Briggs (Walnut Hills), Ryan Mullaney (Moeller), JJ Ross (Lakota West) and Jalen Thornton (Indian Hill)
TriStateFootball.com was founded in 2005 and started its postseason awards in 2007. Pace Jr. becomes the third Colerain player to win the award. Here is the list of winners of this award all-time:
2018 – Ivan Pace Jr. (Colerain)
2017 – Cris Oats (Winton Woods)
2016 – Kyle Bolden (Colerain)
2015 – Kyle Bolden (Colerain)
2014 – Elijah Taylor (Moeller)
2013 – Sam Hubbard (Moeller)
2012 – Shane Jones (Moeller)
2011 – Adolphus Washington (Taft)
2010 – Steven Daniels (St. Xavier)
2009 – Marcus Rush (Moeller)
2008 – Chris Williams (Winton Woods)
2007 – Brandon Mills (Colerain)