TSF 2018 Cincinnati OPOY: Miyan Williams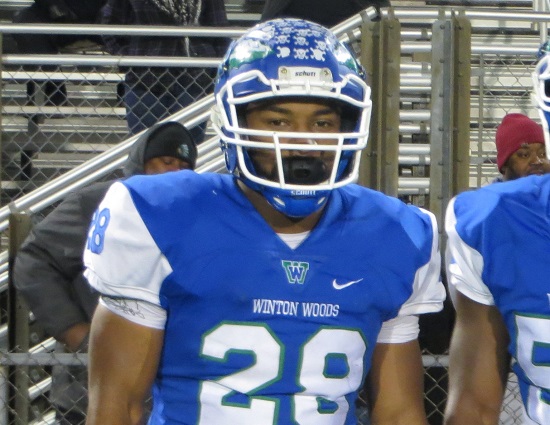 Winton Woods RB Miyan Williams, the 2018 TSF Cincinnati OPOY. (photo by Greg Shoemaker/TriStateFootball.com)
When the going got tough Winton Woods (12-2) could count on Miyan Williams to answer the call on its way to a Division II state semi-finals finish this past fall. Williams turned in a jaw-dropping performance and was named the 2018 TriState Football  Cincinnati Offensive Player of the Year as TSF paid tribute to the finest from Cincinnati, Northern Kentucky, Dayton and Southeast Indiana at its Year in Review Show on Monday night at the Holy Grail – Banks, downtown Cincinnati.
Williams ran for 2,824 yards with 38 touchdowns and 2,917 all-purpose yards as the Warriors won a second straight regional title. His efforts earned him OPSWA Ohio Division II OPOY and First Team All-TSF honors. Williams churned out 430 yards In Winton Woods epic 49-42 comeback win over Olentangy in the first round of the playoffs. His offers include Iowa State, Michigan, Kentucky, Maryland, Purdue, Rutgers and Toledo. Williams was TSF Cincy OPOY finalist as a sophomore.
Other Cincinnati OPOY finalists included seniors – Michael Bittner (Elder), Zeke Correll (Anderson), Cameron Kells (Milford), Deante Smith-Moore (Colerain), juniors JuTahn McClain (Fairfield), Evan Prater (Wyoming) and sophomore Corey Kiner (Roger Bacon).
TriStateFootball.com was founded in 2005 and started its postseason awards in 2007. Williams is the second Winton Woods player to be named the TSF Cincinnati Offensive Player of the Year. Here is a list of past winners:
2018 – Miyan Williams (Winton Woods)
2107 – Chase Wolf (St. Xavier)
2016 – Ra'Von Bonner (Sycamore)
2015 – David Montgomery (Mount Healthy)
2014 – Jeremy Larkin (LaSalle)
2013 – Gus Ragland (Moeller)
2012 – Greg Simpson (Sycamore)
2011 – Jalin Marshall (Middletown)
2010 – Tyler Williams (Colerain)
2009 – Dominique Brown (Winton Woods)
2008 – Mark Miller (Elder)
2007 – Elijah Story (Anderson)