TSF 2018 Kentucky OPOY: Casey McGinness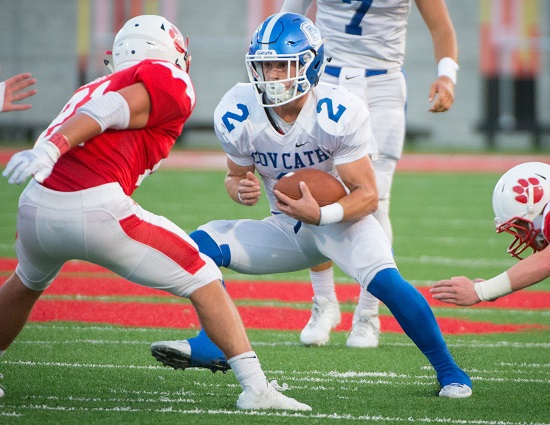 Covington Catholic RB Casey McGinness, the 2018 TSF Kentucky OPOY. (photo by Mitchell Cooke/TriStateFootball.com)
Casey McGinness had the most productive season ever by a Covington Catholic (14-1) running back, this past fall. McGinness was named the 2018 TriState Football Kentucky Offensive Player of the Year as TSF paid tribute to the finest from Cincinnati, Northern Kentucky, Dayton and Southeast Indiana at its Year in Review Show on Monday night at the Holy Grail – Banks, downtown Cincinnati.
The senior fueled the Colonels ground game as they made it back to the state championship game for a second straight year. Covington Catholic had it's 29-game winning streak snapped in the title tilt.
McGinness shattered the Covington Catholic record books with 2,140 yards and 35 touchdowns rushing on his way to KFCA Class 5A, District 5 POY, Courier-Journal Third Team All-Kentucky, First Team All-NKY and Second Team All-TSF honors. He also had 2,765 all-purpose yards, 23 receptions for 341 yards and five touchdown catches. Casey is the Colonels all-time leader with 5,121 yards rushing and total touchdowns with 85 (74 rush, 10 rec, one KR).
The other Kentucky Offensive Player of the Year finalists were seniors – Logan Castleman (Beechwood), Jack Coldiron (Covington Catholic), Reid Jolly (Campbell County), Travon Mason (Lloyd), Jon Sergent (Simon Kenton), Christian Webster (Conner) and junior Quincy Perrin (Scott).
TriStateFootball.com was founded in 2005 and started its postseason awards in 2007. McGinness is the 12th player to win the award and third Colonel to do so. Here the list of winners of this award all-time:
2018 – Casey McGinness (Covington Catholic)
2017 – AJ Mayer (Covington Catholic)
2016 – Dante Hendrix (Cooper)
2015 – Dillon Powell (Simon Kenton)
2014 – Drew Moore (Dixie Heights)
2013 – Brenan Kuntz (Simon Kenton)
2012 – Blake Bir (Covington Catholic)
2011 – Patrick Towles (Highlands)
2010 – Patrick Towles (Highlands)
2009 – Miles Simpson (Simon Kenton)
2008 – Miles Simpson (Simon Kenton)
2007 – Corey Farris (Boone County)