TSF 2018 Kentucky DPOY: Michael Mayer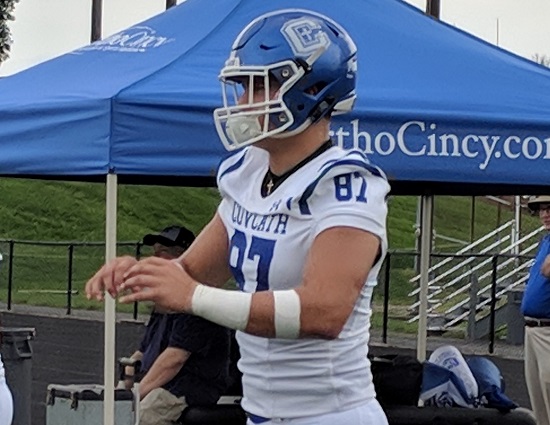 Covington Catholic TE/LB Michael Mayer, the 2018 TSF Kentucky DPOY. (photo by Brady Laber/TriStateFootball.com)
Dominant and disruptive would be the best adjectives to describe the play of Covington Catholic (14-1) linebacker, Michael Mayer this past season. Mayer was named 2018 TriState Football Kentucky Defensive Player of the Year as TSF paid tribute to the finest from Cincinnati, Northern Kentucky, Dayton and Southeast Indiana at its Year in Review Show on Monday night at the Holy Grail – Banks, downtown Cincinnati. Mayer becomes the first junior to be named the TSF Kentucky DPOY.
The Colonels made it back to the Class 5A state championship game but had their 29-game winning streak stopped by South Warren in the finale. Covington Catholic allowed just 10.6 points per game on the season. Mayer was in on 98 total tackles, recorded three sacks, 20 tackles for losses, forced four fumbles, recovered four fumbles and had a 76-yard pick six on his way to Courier-Journal Second Team All-Kentucky (TE), First Team All-NKY (TE & LB) and First Team All-TSF (LB) honors. On offense, Mayer finished with 46 receptions for 1,029 yards, averaged 22.3 per reception and had 10 touchdown catches on offense. Mayer has verbally committed to Notre Dame.
Other finalists included seniors – JJ Courtney (Simon Kenton), Adam Derry (Beechwood), Grant Grubbs (Walton-Verona), Kyle Kelly (Newport Central Catholic), Tanner Lawrence (Campbell County) and junior Brycen Huddleston (Highlands).
TriStateFootball.com was founded in 2005 and started its postseason awards in 2007. Here the list of winners of this award all-time:
2017 – Michael Mayer (Covington Catholic)
2017 – Kam Butler (Covington Catholic)
2016 – Derrick Barnes (Holy Cross)
2015 – Marcus Watson (Cooper)
2014 – Branden Johnson (Dixie Heights)
2013 – Nate McCoy (Gallatin County)
2012 – Cameron Fogle (Conner)
2011 – Mikel Reynolds (Boone County)
2010 – Austin Baldwin (Simon Kenton)
2009 – Brandon Roller (Highlands)
2008 – Kody Rosenhagen (Highlands)
2007 – Luke Stein (Highlands)