TSF 2018 Indiana DPOY: Trey Heidlage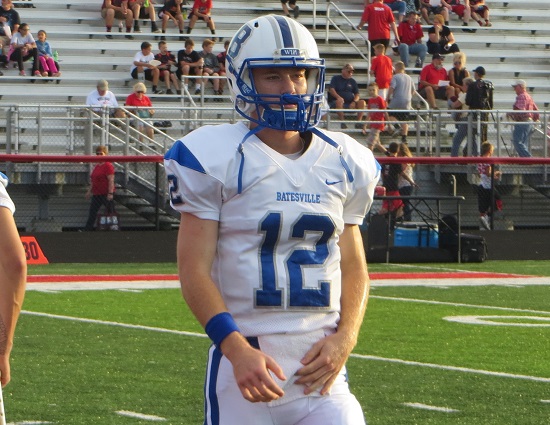 Batesville QB Trey Heidlage, the 2018 TSF Indiana DPOY (photo by Greg Shoemaker/TriStateFootball.com)
A game-changer on both sides of the ball, Batesville (9-3) star Trey Heidlage was named the 2018 TriState Football Indiana Defensive Player of the Year as TSF paid tribute to the finest from Cincinnati, Northern Kentucky, Dayton and Southeast Indiana at its Year in Review Show on Monday night at the Holy Grail – Banks, downtown Cincinnati.
This past fall, Heidlage made his biggest impact on offense for the Bulldogs. He amassed 3,623 yards of total offense (2,148 pass, 1,475 rush) and accounted for 49 touchdowns (28 rush, 21 pass) on his way to being named IFCA Class 3A Senior All-State (QB) and EIAC 3A OPOY (for a second straight year). On defense, Heidlage had 24 total tackles and two interceptions. He was named IFCA Class 3A Senior All-State (DB) in 2017.
Heidlage rewrote the Batesville record books throwing for 4,561 yards and 43 touchdowns in his career. He also ran for 2,888 yards, had 50 rushing touchdowns, 34 receptions, 324 receiving yards, one touchdown reception, 3,452 all-purpose yards, 68 total tackles, four interceptions and kicked nine extra points in his four years as a starter.
TriStateFootball.com was founded in 2005 and started its postseason awards for Indiana Defensive Player of the Year in 2011. Here the list of winners of this award all-time:
2018 – Trey Heidlage (Batesville)
2017 – Mason Parris (Lawrenceburg)
2016 – Mason Parris (Lawrenceburg)
2015 – Hunter Armstrong (East Central)
2014 – Seth Williamson (Batesville)
2013 – Colin Brown (Batesville)
2012 – Payton Stonefield (East Central)
2011 – Payton Stonefield (East Central)