TSF 2018 Dayton OPOY: Jaydon Culp-Bishop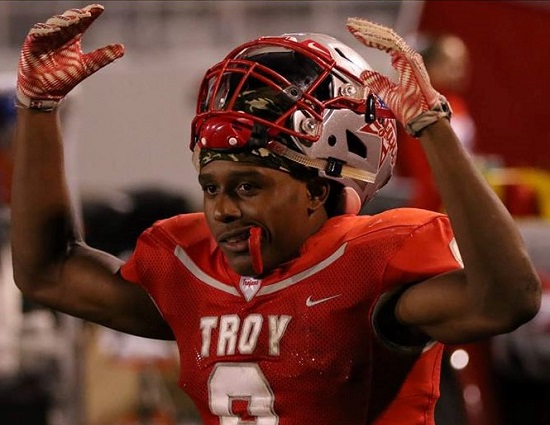 Troy RB Jaydon Culp-Bishop, the 2018 TSF Dayton OPOY. (photo courtesy of ScoutingOhio.com)
Troy running back Jaydon Culp-Bishop turned in of the most prolific offensive seasons in school history. His performance earned him the 2018 TriState Football Dayton Offensive Player of the Year as TSF paid tribute to the finest from Cincinnati, Northern Kentucky, Dayton and Southeast Indiana at its Year in Review Show on Monday night at the Holy Grail – Banks, downtown Cincinnati.
The Trojans senior had a monster campaign running for,427 yards, 38 scores on the ground, 2,710 all-purpose yards and two kickoff returns for touchdowns. His was also named the Division II OPSWA First Team All-Ohio and GWOC American North OPOY. He helped lead Troy (10-2) to its third consecutive playoff appearance for just the second time in school history and the school's 14th overall trip to the postseason.
Culp-Bishop finishes his career with 4,147 yards rushing, 49 touchdowns rushing, 4,563 all-purpose yards and he returned to kickoffs for scores.
Other finalists included seniors, Connor Bazelak (Alter), Jesse Deglow (Fairmont), Jack Fessler (Fenwick), Miles Johnson (Northmont), Sincere Wells (Xenia) and Mason Whiteman (Madison Senior).
TriStateFootball.com was founded in 2005 and started its Dayton postseason awards in 2009. Culp-Bishop becomes the first Troy player to ever be named the TSF Dayton OPOY. Here the list of winners of this award all-time:
2018 – Jaydon Culp-Bishop (Troy)
2017 – Raveion Hargrove (Trotwood-Madsion)
2016 – Ryan Montgomery (Franklin)
2015 – Elijah Cunningham (Springboro)
2014 – D'Mitrik Trice (Wayne)
2013 – Bayle Wolf (Clinton-Massie)
2012 – Bayle Wolf (Clinton-Massie)
2011 – Israel Green (Trotwood-Madison)
2010 – Braxton Miller (Wayne)
2009 – Antwan Gilbert (Trotwood-Madison)