2019 Snapshot: Cooper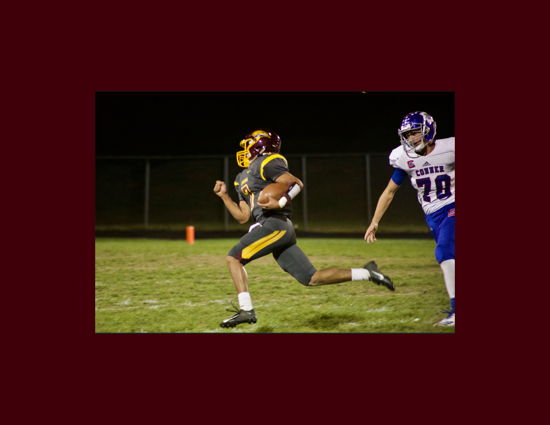 Cooper QB Jeremiah Lee (photo courtesy of Cooper Athletics)
A promising finish to the 2018 campaign is leaving Cooper optimistic about the upcoming season. The Jaguars won three of their final five games last fall after starting 2-5. The offense and defense found their identity over those final five weeks (the two losses were by one and five points). That confidence should carry over into '19.
The offense returns three starters on the line and playmakers at quarterback, running back and receiver. The defense returns three of the Jaguars top five tacklers. They also held the opposition to just 14.6 points over the last five tilts.
Six of Cooper's final seven foes on the schedule all had winning records in '18. The Jaguars will have plenty of opportunities in that stretch to prove that they can win against top tier competition.
A good run in that span could make this a special season.
Class 5A, District 5
2018 RECORD: 5-7, 0-3 Class 6A, District 5
COACH: Randy Borchers (63-66 at Cooper, 11 years, 70-78 overall, 13 years)
HONOR ROLL
Jeremiah Lee, So, QB – You can make a strong argument for Lee as the best player in Northern Kentucky's Class of 2021. He racked up 1,736 yards of total offense (1,012 pass, 724 rush), 1,140 all-purpose yards and accounted for 25 touchdowns (11 pass, 11 rush, one KR, one FR, one IR) as sophomore. That efforts earned Lee 1st Team All-NKCA honors as an athlete.
TOP RETURNEES
Anthony Witschey, Sr, RB – Is quietly putting together a very nice career. In two years as a starter Witschey has run for 1,321 yards and seven touchdowns. He also has 40 total tackles on defense.
Jayden Maynard, Sr, WR – If Maynard can stay healthy for a full season, watch out! He has appeared in 13 games over the past two years and has 22 receptions for 294 yards and a pair of touchdowns.
Brett Bush, Sr, OL – One of three returning starter on the o-line, Bush will be counted on for leadership.
Tyron Chipwelong, Sr, OL/DL – A two-way starter and anchor on each side of the line. Chipwelong was in on 31 total tackles and had a sack as a junior.

Ethan Bosway, Sr, LB – The soul in the middle of the Cooper defense. Bosway led the team with 90 total tackles (48 solo) in '18.
Bryan Yelton, Sr, LB – The heart in the middle of the Jaguars defense. Yelton recorded 61 total tackles, had a fumble recovery and an interception last fall.
Joe Poage, Sr, S – Has a great nose for the ball. Poage tallied 76 total tackles (45 solo) and led Cooper with four interceptions a year ago. He also ran for 187 yards and had for receptions for 17 yards.
Dominic Rulli, Jr, OL/DL – A pleasant surprise as a sophomore. Rulli will be a major factor for the Jaguars on both sides of the line.
NEWCOMERS
Seniors DL Michael Hall and LB Spencer Handel. Juniors DB Chester Hale and Hayden Bergantino will do the same in the secondary. Hale showed some promise last season with 12 total tackles in seven games.
2019 SCHEDULE
Fri – 08/23/19 – DIXIE HEIGHT – 7:30 PM
Fri – 08/30/19 – at Newport Central Catholic – 7:30 PM
Fri – 09/06/19 – RYLE – 7:30 PM
Fri – 09/13/19 – CAMPBELL COUNTY – 7:30 PM
Fri – 09/20/19 – at DeSales – 7:30 PM
Fri – 09/27/19 – at Covington Catholic – 7:30 PM
Fri – 10/04/19 – at George Rogers Clark – 7:30 PM
Fri – 10/11/19 – at Conner – 7:30 PM
Fri – 10/18/19 – BOONE COUNTY – 7:30 PM
Fri – 10/25/19 – HIGHLANDS – 7:30 PM
Fri – 11/01/19 – BYE
DOWN THE STRETCH
The final seven teams on Coopers schedule were a combined 59-28 for a .678 winning percentage in '18. Take out Boone County (2-9) and that that winning percentage jumps to .750.
SEE YA, SIMON KENTON
The Jaguars are happy not to see Simon Kenton on the schedule this season. Cooper is 0-10 all-time versus the Pioneers.
BOONE COUNTY RIVALS
This will be the 12th season of football at Cooper football. The Jaguars have played 129 games (all under coach Borchers) of which 34 have been played against the other three Boone County schools. Cooper is a combined 15-19 against their local rivals – Boone County (7-4), Conner (5-7) and Ryle (3-8).