2019 Snapshot: Lakota East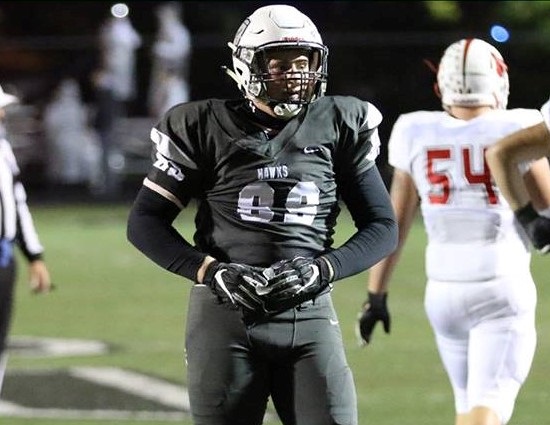 Lakota East DE Adam Hundemer (photo courtesy of ScoutingOhio.com).
In 2019, Lakota East will be aiming to get back to the playoffs for a second consecutive. If that happens it would be the first time in school history. The Thunderhawks now look to take the next step and become a perennial postseason team. There are some excellent parts to this squad but it will be up to the unknowns to prove themselves.
"We have size and eight returning starters on defense," says head coach Rick Haynes. Expect that side of the ball to be more consistent. A year ago Lakota East gave up just 9.0 points in its seven wins (not including the Princeton forfeit). Thunderhawks gave up 36.0 per in their four losses.
The defensive front and the linebackers will need to carry the team in August and September. "We lack experience at both, the offensive and defensive skill positions," Haynes states. Lakota East has only four players on the roster that have scored offensive touchdowns. The youngsters have waited behind some accomplished Thunderhawks that preceded them. They are going to be hungry and when the get that taste of success, Haynes and the 'Hawks are going to be tough to take down.

Division I, Region 4
2018 RECORD: 8-4, 6-2 GMC
COACH: Rick Haynes (51-45 at Lakota East, nine years; 51-45 overall)
HONOR ROLL
Michael Howard, Sr, LB – The athletic Howard was named Second Team All-GMC after recording 86 total tackles, with a sack, two forced fumbles and a pair on interceptions last fall.
Adam Hundemer, Sr, DL – A Second Team All-GMC selection as a junior, Hundemer recorded 46 total tackles, had a sack and three takeaways (two FRs, one INT) for the Thunderhawks.
OTHER RETURNEES
Evan Yockey, Sr, OL – The 6-foot-6, 320-pound Yockey is the anchor of the Thunderhawks offensive line. Yockey's leadership will be counted on in as a "green" backfield settles into its groove.
Justin Katona, Jr, LB – An outstanding varsity debut saw Katona get in on 65 total tackles and recover three fumbles as a sophomore. He has all the tools to be an All-District selection by the time he is done in a Thunderhawks uniform.
Aaron Sharp, Sr, DL – With a low center of gravity the 5-foot-11 and 250-pound Sharp, does a great job of taking on opposing o-lineman and letting the Lakota East linebackers clean up on tackles.
Troy Reisner, Sr, LB – A healthy senior year for Reisner could make the Thunderhawks linebacking unit something special. He was in on 22 total tackles as in '18.
Hayden King, Sr, LB – A solid varsity debut saw King get in on 53 total tackles with a sack.
Corey Dick, Sr, RB/B – An asset in all three phases of the game. As a junior, Dick averaged 29.6 yards on 11 kickoff returns, recorded 21 tackles, ran for 307 yards, had five receptions and found the end zone twice (one rush, one rec).
NEWCOMERS
The opportunity to get snaps on offense and defense will be there for juniors FB/LB Jordell Smith, RB/DB Josh Thornhill and sophomore RB/LB Charlie Kenrich. Thornhill came on strong late last season with 142 of his 156 yards rushing (on 12 carries, 11.9/carry) and lone reception for 40 yards in the final four weeks.
PLAYOFF HISTORY
(three appearances, 3-3) – 2018, 2014, 2012
2019 SCHEDULE
Fri – 08/30/19 – TURPIN – 7:00 PM
Fri – 09/06/19 – FAIRMONT – 7:00 PM
Fri – 09/13/19 – at Mason – 7:00 PM
Fri – 09/20/19 – MIDDLETOWN – 7:00 PM
Fri – 09/27/19 – PRINCETON – 7:00 PM
Fri – 10/04/19 – at Fairfield – 7:00 PM
Fri – 10/11/19 – OAK HILLS – 7:00 PM
Fri – 10/18/19 – at Lakota West – 7:00 PM
Fri – 10/25/19 – at Colerain – 7:00 PM
Fri – 11/01/19 – HAMILTON – 7:00 PM
POSTSEASON PRIDE
Lakota East has been to the playoffs three times in the last seven seasons. During that span the Thunderhawks have three postseason victories which ties them with Sycamore for second most by a GMC school behind Colerain's 16 wins. Mason and Lakota West each have two playoff wins since '12.
BLOWOUT WINS
The Thunderhawks won four games by 30 points or more last season. That is one more time than the they did in their 28 victories over the five seasons prior to that.