2019 Snapshot: Purcell Marian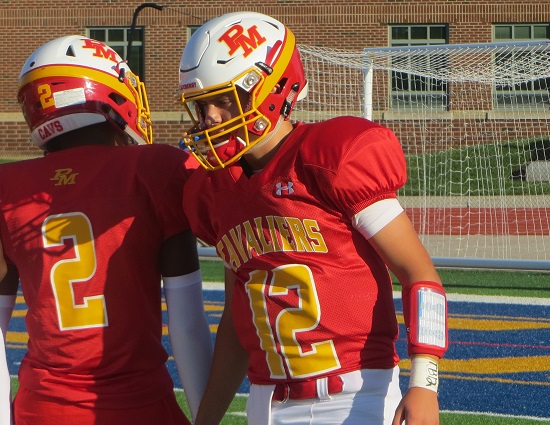 Purcell Marian QB Zach Hoover (photo by Greg Shoemaker/TriStateFootball.com)
New beginnings and a fresh start awaits Purcell Marian this fall. The Cavaliers along with rival Roger Bacon have left the Greater Catholic League (Co-eds Conference) and will now play their inaugural season in the Miami Valley Conference (Scarlet Division). It was getting very difficult for the smallest two former GCL Co-eds schools to matchup with the larger league programs. Purcell Marian was looking to be more competitive on a week-to-week basis and the MVC provides that platform.
The move really impacts who is on the schedule for Division V Purcell Marian. A year ago, the Cavaliers played eight games versus schools from larger Divisions including six in Division III. This fall there are only five games against larger Division schools and just two versus Division III schools. Purcell Marian only played two schools its size in 2018. This fall they will play five programs that are their size or smaller. This gives the Cavaliers a legitimate shot to make the playoffs.
For the postseason to come to fruition, Purcell Marian must stay healthy, this isn't a deep team. The Cavaliers will have to work hard up front and win with technique and heart.
Division V, Region 20
2018 RECORD: 4-6, 1-6 GCL Co-eds
COACH: Dave Wirth (6-14 at Purcell Marian, two years; 82-66 overall, 13 years)
HONOR ROLL
Laurence Christian, Sr, DB – Earned Division V Honorable Mention All-Ohio and First Team All-Southwest District honors after registering 43 total tackles and snaring seven interceptions as a junior. On offense, numbers should blossom for Christian this fall. He had 13 receptions for 152 yards last season.
Zach Hoover, Jr, QB – In his first year as a starter, Hoover threw for 2,123 yards and 17 touchdown passes with another 130 yards and a score on the ground. Hoover also connected on 18-20 extra points. That work earned him First Team All-GCL Central honors a year ago.
Tony White, Sr, LB – Will be one of the top linebackers in the MVC this season. Was a Second Team All-GCL Central selection last fall after getting in on 60 total tackles with two sacks, two forced fumbles, two fumble recoveries and an interception.
Evan Cox, Jr, WR/DB – Named Second Team All-GCL Central after catching 16 passes for 158 yards as a sophomore.
OTHER RETURNEES
Gerry Coach, Sr, OL/DL – The 6-foot-0, 244-pound Coach looks to get back to the level of pay that made him a Second Team All-GCL Central selection as a sophomore. He was in on 23 total tackles with two sacks and a fumble recovery in '18.
Jaylen Hines, Sr, DB – Part of a rock-solid secondary Hines tallied 46 total tackles with a sack and a forced fumble as a junior.
Daniel Foy, Jr, WR/DB – Back for a second year as a starter, Foy recorded 39 total tackles with a fumble recovery and an interception as a sophomore.
Johnny Childress, Sr, WR/DB – The Cavaliers top returning receiver. Childress had 17 receptions for 220 yards and a pair of touchdowns a year ago.
NEWCOMERS
A pair of sophomores WR/DB Leo Hennegan and LB Jack Mumper are expected to make a difference in the starting lineup for coach Wirth. Hennegan played in four games with nine total tackles as a freshman.
PLAYOFF HISTORY
(four appearances, 7-3) – 2000, 1999, 1997 (Regional Champion), 1986 (State Champion)
2019 SCHEDULE
Fri – 08/30/19 – at Reading – 7:00 PM
Fri – 09/06/19 – SHRODER – 7:00 PM
Fri – 09/13/19 – at Madeira – 7:00 PM
Fri – 09/20/19 – at McNicholas – 7:00 PM
Fri – 09/27/19 – BADIN – 7:00 PM
Fri – 10/04/19 – ROGER BACON – 7:00 PM
Fri – 10/11/19 – at CHCA – 7:00 PM
Fri – 10/18/19 – SUMMIT COUNTRY DAY – 7:00 PM
Fri – 10/25/19 – at Dayton Christian – 7:00 PM
Fri – 11/01/19 – NORWOOD – 7:00 PM
**ALL home games will played at Marx Stadium (Walnut Hills HS)
GOOD RIDDANCE, GCL CO-EDS
How brutal was the GCL for Purcell Marian? Since 2006, when the GCL Co-eds expanded to eight teams (North – Alter, Chaminade Julienne, Carroll Fenwick; Central – Badin, McNicholas, Roger Bacon, Purcell Marian), the Cavaliers went a combined 10-81 (.109 winning %) in conference play. They lost 44 consecutive games from 2006 into the 2012 season.
FUTILITY IN THE WIN COLUMN
Last seasons four victories were the most by a Cavaliers squad since they went 4-6 in 2003. The last winning campaign and playoff appearance for Purcell Marian was in 2000 when they went 8-4. In the 18 years since, the program is a combined 43-137 (.239 winning %).