2019 Schedule Sneak Peek: Elder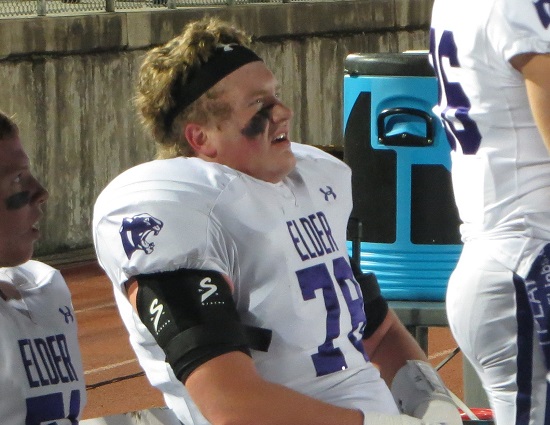 Elder OL Jakob James (photo by Greg Shoemaker/TriStateFootball.com)
Playoff pedigree opponents are all up and down the Elder Panthers 2019 schedule. The reigning Division I, Region IV runner-up Panthers will face 10 schools that were a combined 66-39 (.695 winning %) a year ago.
The headliner on the marquee will be the GCL South opener at St. Xavier. This will be the 100th meeting between the two schools in a rivalry that started back in 1923. The two teams have squared off every year since 1930 with 1929 being the only season they haven't played. The Panthers lead the series 51-42-6.
Six games with schools from Ohio are on the slate. Five of those schools made the playoffs in 2018 including Division I state champion St. Edward (11-3) and Division II state semi-finalist, Winton Woods (12-2). The only one that didn't make the playoffs from that group is La Salle (4-5).
Elder and Winton Woods will battle for the eighth consecutive season. The Panthers won the first three in this continuous part of the series (and first five in the overall series) but the Warriors have come up victorious in three of the last four tilts.
The Panthers head north to face St. Edward in their only Saturday game this fall. The two squads have met for every season since 2007. The Eagles lead the overall. series, 9-7.
Here is a look at the 2019 Elder schedule:
Fri – 08/30/19 – at Gahanna Lincoln – 7:00 PM
Fri – 09/06/19 – CATHEDRAL (IN) – 7:00 PM
Fri – 09/13/19 – CLEARWATER ACADEMY (FL) – 7:00 PM
Fri – 09/21/19 – at St. Edward – TBA
Fri – 09/27/19 – RYLE (KY) – 7:00 PM
Fri – 10/04/19 – at St. Xavier – 7:00 PM
Fri – 10/11/19 – MOELLER – 7:00 PM
Sat – 10/18/19 – at Winton Woods – 7:00 PM
Fri – 10/25/19 – NORTH CLARKSON S.S. (ONT) – 7:00 PM
Fri – 11/01/19 – at La Salle – 7:00 PM
FINAL TAKE:  Having made that deep run in the playoffs a year ago should make this a mentally tough Elder squad. With an offensive line that features three BCS recruits in seniors OL Jakob James (Ohio State commit), OL Luke Kandra and TE Joe Royer, Elder has the size to dominate games up front. They will be able to control the clock when they need to. The defense has more questions than answers going into the season. How Elder handles speed at the skill positions and size along opposing offensive lines will be a key factor for another extended stay in the postseason.