The Wood Is Very Good in Greenville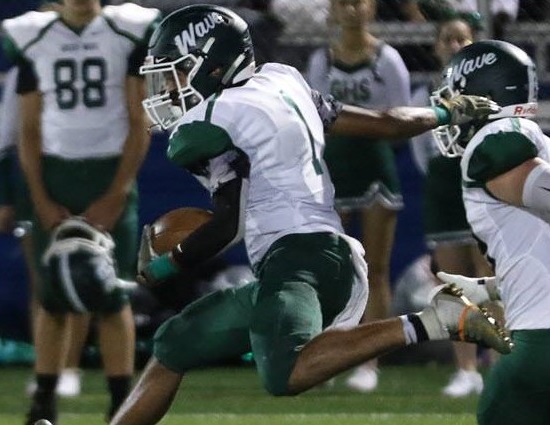 Greenville WR/DB/RS Marcus Wood (photo courtesy of Scouting Ohio)
Get ready Greenville, Green Wave football fans buy your tickets early because all signs point to Marcus Wood have an incredible senior season. A breakout junior campaign saw the 5-foot-10, 155-pound Wood earn 2018 Division III Honorable Mention All-Ohio and First Team All-Southwest District honors. He excelled in all phases of the game.
"Marcus is a dynamic playmaker with the ball in his hands. Although he is smaller in size, he is a physical with speed and agility, states his former head coach and current Greenville Athletic Director, Aaron Shaffer. Offensively, Wood led the Green Wave in receptions, receiving yards and receiving touchdowns. On Special teams, He amassed 482 total return yards, averaged 20.3 on 15 kickoff returns, 25.3 yards on seven punt returns including two for touchdowns. Defensively, Wood finished the season tied for the GWOC lead in interceptions with five (seven career picks). "He has tremendous cover skills," Shaffer laments.
"By Week 5 teams started throwing away and kicking away from him." What Shaffer says, makes what Wood did over the final four games even more impressive. With opponents keying on him, Wood had 23 of his 44 receptions, 300 of 537 receiving yards 688 of his 1,074 all-purpose yards and that span. Those four squads were a combined 27-14 (.658 winning %).
It is easy to see why there is reason to be excited in Greenville this fall. Marcus Wood has the electrifying tools that keeps the Green Wave faithful holding their breath every time he touches the ball.