2019 Schedule Sneak Peek: Dunbar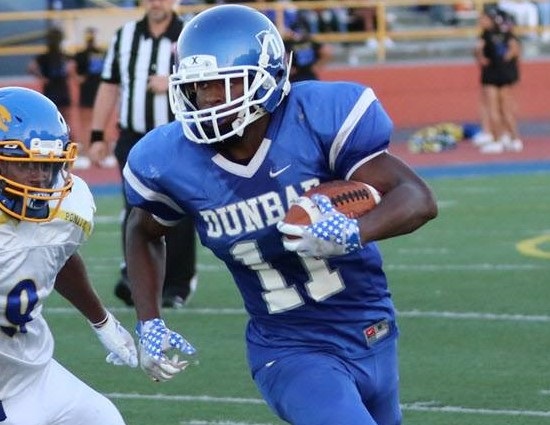 Dunbar RB James Murray (Photo courtesy of Scouting Ohio.com)
The road to the playoffs is going to be tough for Dunbar in 2019. The Wolverines who finished 6-4 a year ago only have five Friday night games this fall. Four times they will have one less day to prepare for their foes with four Thursday night affairs and one Saturday battle.
Dunbar will play teams that were a combined 43-57 (.430 winning %) a year ago. Only two opponents had records above .500 in 2018 (Milford & Teays Valley). Milford was the only team that made the playoffs last season.
All six non-conference games are against schools that weren't on the slate in 2018. Dunbar, a Division III (Region 12) school has five tilts with larger programs (two Division I, three Division II), three versus Division III squads and two against Division IV teams.
Here is a look at the 2019 Dunbar schedule:
Sat – 08/31/19 – ROGER BACON – 7:00 PM
Fri – 09/06/19 – at Milford – 7:00 PM
Fri – 09/13/19 – at Centerville – 7:00 PM
Fri – 09/20/19 – at La Salle – 7:00 PM
Th – 09/26/19 – THURGOOD MARSHALL – 7:00 PM*
Fri – 10/04/19 – at Teays Valley – 7:00 PM
Th – 10/10/19 – at Ponitz Tech – 7:00 PM*
Th – 10/17/19 – MEADOWDALE – 7:00 PM*
Fri – 10/25/19 – BISHOP WATTERSON – 7:00 PM
Th – 10/31/19 – BELMONT – 7:00 PM*
*Denotes conference game
FINAL TAKE: Looks can be deceiving when analyzing Dunbar's schedule. All six of the Wolverines non-conference games are against teams that are expected to make the playoffs in 2019. The good news is that none of those affairs will be played on short rest. Dunbar will have some excellent opportunities to accrue enough computer points to make the postseason but they have to take care of business in league play. The Wolverines have the potential to pickup 57.5 Level I computer points and that is about as good as it gets for a Division III school. If they can steal some wins outside of their league Dunbar will be in the hunt for its ninth playoff appearance in school history.