2019 Snapshot: Turpin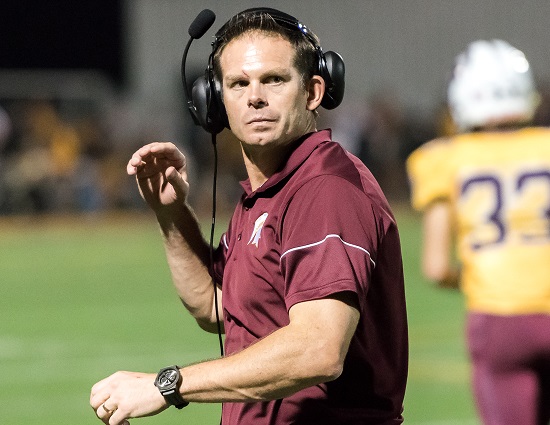 Turpin head coach Kent McCullough (photo by Justin Sheldon/TriStateFootball.com).
Deceptively dangerous would be the best way to describe the team that lines up on the field for Turpin this fall. The Spartans return eight starters on offense and nine on defense. Turpin will be the team on the scheduled that opponents will cringe at when it's their Friday to face the Spartans.
"We have an experienced senior class and our entire offensive line returns," says head coach Kent McCullough. There are proven and productive players all up and down the Turpin roster. Scoring points will not be problem.
As great as it is to have the o-line back, they aren't big. They had a tendency to wear down late in games. Turpin only had three runs of more than 20 yards all season (355 rushes). The Spartans failed to score in the second half in two of its four losses and had just seven points after intermission in another defeat.
The schedule is tough, featuring five schools that made the playoffs a year ago (of which four won games in the postseason). The opportunities are there to earn some big computer points. Turpin must show it's up to the challenge for a full 48 minutes. For the Spartans, it will come down to mental toughness if they want to be playing in November.
Division II, Region 8
2018 RECORD:  6-4, 4-3 ECC
COACH:  Kent McCullough (10-10 at Turpin, two years; 49-36 overall, eight years)
HONOR ROLL
Harry Tyszkiewicz, Sr, S – Was named First Team All-ECC after a stellar junior season in the secondary. He had three  of the teams 14 total takeaways (one FR, two INTs).
Will Myres, Jr, DL/P – One of Turpin's most pleasant surprises in 2018. Myres recorded two-and-a-half sacks and recovered two fumbles. He was selected Second Team All-ECC as a punter after averaging a single season school record of 39.7 on 19 punts.
Justin Silverstein, Sr, QB – Made the move from receiver to quarterback seamlessly. Silverstein threw for 1,871 yards and 22 touchdowns as a junior. He had six touchdown passes of 40-yards or more. Silverstein was named Second Team All-ECC for his efforts.
Reece Evans, Sr, RB/LB – A breakout junior campaign saw Evans run for 992 yards, catch 17 passes for 231 yards with 21 trips to the end zone (17 rush, four rec). Evans earned Second Team All-ECC honors for his performance.
Keegan Slaney, Sr, DL – Tallied four sacks and played with a relentless force a year ago. Slaney's work made him a Second Team All-ECC selection.
Josh Bell, Sr, TE – At 6-foot-4 and 194-pounds Bell became a big-time red zone threat as a junior. He caught 25 balls for 317 yards and five touchdowns on his way to Second Team All-ECC accolades.
Gabe Hickman, Jr, OL – Gave the o-line a huge lift in his first season as a starter. That effort saw Hickman garner Honorable Mention All-ECC accolades.

OTHER RETURNEES
Kaidan Naughton, Jr, WR/DB – A jack-of-all-trades. On offense, Naughton ran for 262 yards, had seven receptions, 130 receiving yards and found the end zone four times (two rush, two rec) in 2018. He had two interceptions on defense. On special teams Naughton averaged 48.4 yards on 36 kickoffs with six touchbacks, went a perfect 4/4 on his extra point tries and went 0/3 on long field goal attempts.
Miles Molloy, Sr, RB/K – A valuable part of the special teams. Molloy connected on 32/35 extra points, 5/7 field goals (long of 37 yards) for 47 kicking points as a junior. He also had a 53-yard touchdown run versus Withrow.
Chris Ward, Sr, OL/DL – A returning starter up front for an offense that averaged 350.8 yards of total offense per game in 2018.
Phil Messerly, Sr, LB – Will be counted on to be a leader in the middle of the defense. Messerly had one of the Spartans mere seven fumble recoveries a year ago.
Mark Middendorf, Sr, DB – Played in six games and had one of Turpin's seven interceptions in 2018.
NEWCOMER
Logan Hurley, Jr, WR – Look for Hurley to earn plenty of snaps and be an excellent option at receiver for Silverstein.                                         
PLAYOFF HISTORY
(10 appearances, 11-10) – 2016, 2015, 2012, 2011, 2010, 2009, 2008, 2007, 2006 (Regional Champions), 1995
2019 SCHEDULE
Fri – 08/30/19 – at Lakota East – 7:00 PM
Fri – 09/06/19 – at Northwest – 7:00 PM
Fri – 09/13/19 – TROY – 7:00 PM
Fri – 09/20/19 – WEST CLERMONT – 7:00 PM
Fri – 09/27/19 – at Kings – 7:00 PM
Fri – 10/04/19 – at Walnut Hills – 7:00 PM
Fri – 10/11/19 – LOVELAND – 7:00 PM
Fri – 10/18/19 – ANDERSON – 7:00 PM
Fri – 10/25/19 – at Withrow – 7:00 PM
Fri – 11/01/19 – MILFORD – 7:00 PM
FEAST OR FAMINE
Eight of the Spartans 10 games last season were decided by 18 points or more. Turpin went 5-3 in those tilts with average margin of victory of 26.8 points and average margin of defeat of 22.0 points.
PASSING FANCY
The 22 touchdown passes by Justin Silverstein in 2018 ties him for third most in a season by a Turpin quarterback. They were the most by a Spartans signal-caller since Eric Martin threw that many in 2010