GWOC: 2019 Active Leaders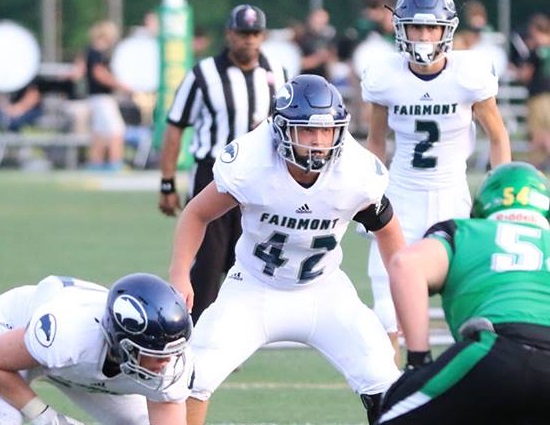 Fairmont LB Trey Baker (photo courtesy of ScoutingOhio,com)
The new look Greater Western Ohio Conference gets set to take the field and there are some old familiar faces ushering in the era. Springfield, Wayne and Northmont will have new quarterbacks. Those signal-callers have some of the league's most productive skill players surrounding them.
Returning GWOC National East Co-Defensive Player of the Year, OPSWA 2nd Team All-Ohio selection and TriState Football Dayton Defensive Player of the Year finalist, Trey Baker will continue with his assault on the Fairmont record books. Baker has led the Firebirds in tackles for the last three years.
Here is a look at the active leaders in the Greater Western Ohio Conference as we head into 2019.
PASSING YARDS
1,830…Landon Palmer, Sr, Springboro
1,446…Chase Harrison, So, Centerville
943……Cooper Stewart, Jr, Trotwood-Madison
702……Keon'tae Huguely, Sr, Trotwood-Madison
PASSING TOUCHDOWNS
20……….Landon Palmer, Sr, Springboro
10………Keon'tae Huguely, Sr, Trotwood-Madison
9………..Chase Harrison, So, Centerville
9………..Cooper Stewart, Jr, Trotwood-Madison
RUSHING YARDS
1,740…Tay'Veon Smoot, Sr, Springfield
1,271…Devin Nelson, Sr, Wayne
1,115…Michael Franklin, Sr, Northmont
866……Jeff Tolliver, Sr, Springfield
796……Wileon Yates, Sr, Springboro
RUSHING TOUCHDOWNS
20……….Devin Nelson, Sr, Wayne
15………Michael Franklin, Sr, Northmont
14………Tay'Veon Smoot, Sr, Springfield
10………Wileon Yates, Sr, Springboro
RECEPTIONS
56……..Jazz Keys, Sr, Northmont
54……..Justin Golson, Sr, Northmont
42…….Wileon Yates, Sr, Springboro
38……..Austin Mullins, Jr, Wayne
34……..Larry Stephens III, Sr, Springfield
32……..Cameron Fancher, Jr, Wayne
RECEIVING YARDS
966…….Justin Golson, Sr, Northmont
747……Jazz Keys, Sr, Northmont
591……Larry Stephens III, Sr, Springfield
477……Wileon Yates, Sr, Springboro
447……Cameron Fancher, Jr, Wayne
430……Austin Mullins, Jr, Wayne
RECEIVING TOUCHDOWNS
14………Justin Golson, Sr, Northmont
6.………Larry Stephens III, Sr, Springfield
6.………Austin Mullins, Jr, Wayne
TOTAL TOUCHDOWNS
22……….Devin Nelson, Sr, Wayne
15………Tay'Veon Smoot, Sr, Springfield
15………Michael Franklin, Sr, Northmont
15………Wileon Yates, Sr, Springboro
ALL-PURPOSE YARDS
1,776…Tay'Veon Smoot, Sr, Springfield
1,641…Wileon Yates, Sr, Springboro
1,371…Devin Nelson, Sr, Wayne
1,310…Jeff Tolliver, Sr, Springfield
1,132…Michael Franklin, Sr, Northmont
1,065…Larry Stephens III, Sr, Springfield
1,019…Justin Golson, Sr, Northmont
TOTAL TACKLES
231……Trey Baker, Sr, Fairmont
164……Ke'Shawn Huguely, Sr, Trotwood-Madison
146……Xzerious Stinnet, Sr, Springfield
109……Mario DeGennaro, Jr, Lebanon
SACKS
12.0…..Ke'Shawn Huguely, Sr, Trotwood-Madison
7.0…….Darian Hughes, Sr, Lebanon
FUMBLE RECOVERIES
6….……Xzerious Stinnet, Sr, Springfield
3……….Ke'Shawn Huguely, Sr, Trotwood-Madison
INTERCEPTIONS
6….……Trey Baker, Sr, Fairmont
4….……Kendric Holt, Sr, Springfield
4….……Sammy Anderson, Sr, Trotwood-Madison
4….……Ravae Garrett, Sr, Trotwood-Madison
KICKING POINTS
111……Brandon Goodwin, Sr, Northmont (96/101 XPs, 5/9 FGs)
93……..Carter Mims, So, Trotwood-Madison (90/114 XPs, 1/3 FGs)