2019 Snapshot: Lawrenceburg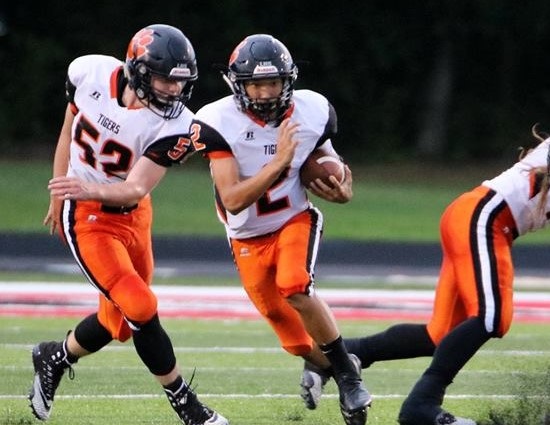 Lawrenceburg QB Garrett Yoon (photo by Linda Lyness Maxwell)
Last season was just the second time in Ryan Knigga's eight-year tenure as the Lawrenceburg head coach that the Tigers had a losing record. What a difference a year makes, with 10 returnee's on each side of the ball this Lawrenceburg team should make a strong run toward the state title.
"This team has a high ceiling if we can get better each week and stay healthy. Last year we did not meet our standards and fell short of our program's expectations. Our kids are hungry and have worked hard to get stronger and better," quips Knigga. "We want to be playing our best football going into the playoffs."
The Tigers have the size along their lines to make all other Class 3A teams in the Hoosier state envious. The Lawrenceburg offense will light up the scoreboard behind those behemoths. "This is an athletic team with a ton of weapons. We feel we have great skill players," states Knigga.
Defensively, the push up front will allow the linebacking corps some freedom to cut it loose. "We have a group of linebackers who can play," states Knigga. The secondary will be benefactors of the pressure with ample interception opportunities.
All the pieces are in place for a big 2019 campaign. This is going to be a fun squad to follow. Lawrenceburg is "legit" and as the season wears on that will become even more apparent.
Class 3A, Sectional 31
2018 RECORD: 5-6, 1-2 EIAC 3A
COACH: Ryan Knigga (66-29 at Lawrenceburg, eight years; 66-29 overall)
HONOR ROLL
Garrett Yoon, So, QB – Knigga exalts, "Garrett is one of the BEST QB's in the state. He is a freak athlete who gives us a dual threat." Yoon threw for2,138 yards, ran for 694 yards and accounted for 26 touchdowns (14 pass, 12 rush) while starting every game as a freshman. That performance earned him Class 3A All-EIAC honors.
Gavin Yoon, Sr, WR – Has been named Class 3A All-EIAC in each of the past two seasons. Yoon has 82 receptions, 1,579 receiving yards and 16 touchdown catches In a Tigers uniform. He also has five career interceptions on defense.
Daulton Dixon, Sr, OL – A three-year starter who was a Class 3A All-EIAC selection as a junior. The 6-foot-2, 265-pound Dixon is the leader of the o-line.
Marshall Kinnard, Sr, LB – In his first year as a starter, Kinnard recorded 72 total tackles, had two sacks and recovered a fumble. That effort earned him Class 3A All-EIAC accolades.
Andrew Rennekamp, Sr, LB – A breakout campaign, saw Rennekamp tally 70 total tackles, record a sack, and snare an interception on his way to Class 3A All-EIAC acclaim as a junior.
Ethan Parris, Jr, OL – Really came on as a sophomore with 26 total tackles, five tackles for losses and a pair of sacks. Parris was an Honorable Mention Class 3A All-EIAC choice.
Jack Bradley, Sr, OL/DE – A great motor, should have a big senior season. Bradley was named Honorable Mention Class 3A All-EIAC in 2018.
Andrew Roth, Sr, LB – Came to life as a junior with 62 total tackles, three tackles for losses and two sacks. He earned Honorable Mention Class 3A All-EIAC honors for his play.
OTHER RETURNEES
Adam Burd, Jr, RB – Moved to running back after starting at quarterback as a freshman. Burd heads into his junior year with 1,126 yards rushing, 13 touchdowns on the ground, 10 receptions for 106 yards, one touchdown catch, 258 yards passing and two touchdown passes.
Ashton Craig, So, OL/DL – Will be a first-year starter somewhere along the defensive line. Could be a pleasant surprise.
Lance Bates, So, OL/DE – The young sophomore looks to find himself a spot in the starting lineup.
Mason Kennedy, Sr, FB/TE/LB – Kennedy has bided his time and will now move into a starting role. He has 304 yards rushing with four trips to the end zone in his career.
Seth Lampert, Sr, WR – Will be one of the top options in the passing game. Lampert had 11 receptions for 120 yards a year ago.
NEWCOMERS
The offense will be aided immensely with healthy seniors OL Jason Morton and OL Sam Thayer. The duo would have been starters last year but injuries brought their 2018 season to an early halt. Knigga is excited about having the 6-foot-9, 310-pound Morton back, stating "Jason will be a huge force for us on the line. He moves extremely well for a big man and will have offers after the season starts." Classmate WR/DB Aiden Gilmour draws comparisons to former Tigers star RB Chad Banschbach (the 2011 & 2012 TriState Football Indiana Offensive Player of the Year). Junior WR/ FS Dakota Roth is very athletic and will find plenty of snaps on both sides of the ball.
PLAYOFF HISTORY
(70-39 overall)
Sectional Champions (18) – 2017, 2016, 2012, 2005, 1999, 1998, 1992, 1991, 1988, 1986, 1985, 1984, 1981, 1980, 1979, 1978, 1976, 1975
Regional Champions (5) – 2016, 1985, 1984, 1978, 1975
Semi-State Champions (2) – 2016, 1985
State Champions (2) – 1978, 1975
2019 SCHEDULE
Fri – 08/23/17 – EAST CENTRAL – 7:00 PM
Fri – 08/30/17 – at Taylor (OH) – 7:00 PM
Fri – 09/07/17 – vs Milan at Lucas Oil Stadium – 8:00 PM
Fri – 09/13/17 – at Greensburg – 7:00 PM
Fri – 09/20/17 – FRANKLIN COUNTY – 7:00 PM
Fri – 09/27/17 – BATESVILLE – 7:00 PM
Fri – 10/04/17 – at Rushville – 7:00 PM
Fri – 10/11/17 – at Connersville – 7:00 PM
Fri – 10/18/17 – SOUTH DEARBORN – 7:00 PM
Fri – 10/25/17 – TBD (1st round IHSAA playoffs)
HIGH POWERED OFFENSE
Despite the losing record a year ago, Lawrenceburg was still very entertaining on offense. The Tigers averaged 380 yards of total offense and 23.0 points per game.  Those numbers should really bloom this fall. Returning players accounted for 75% of the Tigers touchdown production (rushing and receiving), 57% of their rushing yards, 51% of their receptions and 73% of their receiving yards in 2018.
CLOSE CALLS
Lawrenceburg has played 24 total games over the past two season of which 11 have been decided by seven points or less. The Tigers are 6-5 in those tilts.