2019 Snapshot: Colerain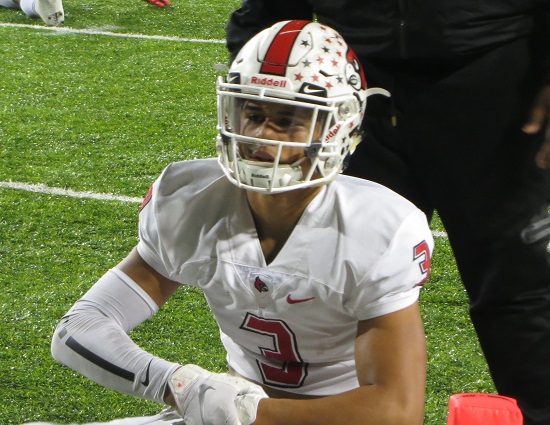 For the first time in 12 years, Tom Bolden won't be patrolling the sidelines as the head coach of the Cardinals. Over his tenure, Colerain dominated the GMC, and made their first trip to the state title game since winning it back in 2004. He has moved on to Lakota West.
Shawn Cutright replaces Bolden and is up for the challenge. He was the Cardinals' defensive coordinator and has been with the program for 13 years (hired by Kerry Combs). Colerain has no plans of skipping a beat under Cutright.
The biggest question for the Cardinals will be how will the team replace their entire backfield and virtually their entire offensive production from 2018? Deante Smith-Moore was an all-district quarterback, wingbacks Syncere Jones (also the team's best CB), and J.J. Davis, who were both return men and "home run" threats from anywhere on the field.
Gone are Ivan Pace Jr. the OPSWA Division I Defensive Player of the Year and TriState Football Cincinnati Defensive Player of the Year. He also ran for 1,441 yards and 22 touchdowns. Luke Bolden and Jakari Patterson are key losses in terms of production and leadership on defense. Thankfully for the Cardinals, many of the coaches that have been on the staff previously are still there.
Bottom line, even with key starters lost, Colerain rebuilds and expects to be a force yet again. There might be some growing pains and some mistakes we aren't used to seeing with this program. If there is anything you can bank on, it's that the Cards will be at the top of the GMC and back into the playoffs again.
Division I, Region 4
2018 RECORD: 14-1, 8-0 GMC (Division I state runner-up)
COACH: Shawn Cutright (0-0 at Colerain, first year; 0-0 overall)

TOP RETURNEES
Deshawn Pace, Sr, WR/DB: One of the top defensive backs in Ohio, Pace is a two-time First Team All-GMC selection. He has 119 total tackles four fumble recoveries, six interceptions and pick six in his career. Pace has verbally committed to Cincinnati.
Ace Ehrenschwender, Sr, OL: Back for his third year as a starter, Ehrenschwender is the leader of the offensive line. He was named First Team All-GMC as a junior.
Donovan Owens, Sr, DL: One of the most underrated defensive linemen in the Cincinnati area. The 6-foot-3, 245-pound Owens recorded 43 total tackles, recovered a fumble and had 1.5 sacks as a junior. That effort earned him First Team All-GMC honors.
Elijah Ford, Sr, TE/OLB: Will play a larger role in the Cardinals offense this fall. Two of Ford's three receptions went for touchdowns on his way to Second Team All-GMC accolades as a junior. For has offers from Austin Peay and The Citadel.
Lawson Sandusky, Sr, DB/P: Averaged 37.2 yards on 31 punts, including 11 inside the 20 with a long of 71 yards as a junior. Sandusky was named Second Team All-GMC for his efforts.
Michael Bess, Jr, LB: Made quite a splash in his varsity debut registering 81 total tackles, with two sacks, two fumble recoveries and an interception a year ago. Bess was named Second Team All-GMC for his work.
Dontay Corleone, Jr, DL: In his first year as a starter Corleone was in on 44 total tackles and had three sacks as a sophomore. He was a Second Team All-GMC selection.
Freddie Johnson, Jr., QB/RB: Has bided his time behind some very good players now Johnson Jr. gets his crack at being a star. He had six receptions for 117 yards and three touchdowns on way to Second Team All-GMC honors as a sophomore.
Jaylen Thomas, Sr, OLB/SS: In his first season as a starter, Thomas tallied 43 total tackles, had a sack, recovered two fumbles, picked off two passes, with a scoop and score and 100-yard touchdown on an interception return in 2108.

PLAYOFF HISTORY
Colerain has never lost a first-round playoff game.
(21 appearances, 42-22) – 2018 (State Runner-up), 2017 (Regional Champion), 2016, 2015 (Regional Champion), 2014, 2013, 2012, 2011, 2010, 2008, 2007, 2006 (Regional Champion), 2005, 2004 (State Champion), 2003, 2002, 2001, 2000 (state semifinalist), 1998, 1995 (2 wins forfeited), 1994 (Regional Champion)

2019 SCHEDULE
Fri – 08/30/19 – at Wayne – 7:00 PM
Fri – 09/06/19 – ST. XAVIER – 7:00 PM
Fri – 09/13/19 – OAK HILLS – 7:00 PM
Fri – 09/20/19 – at Princeton – 7:00 PM
Fri – 09/27/19 – at Middletown – 7:00 PM
Fri – 10/04/19 – SYCAMORE – 7:00 PM
Fri – 10/11/19 – at Hamilton – 7:00 PM
Fri – 10/28/19 – MASON – 7:00 PM
Fri – 10/25/19 – LAKOTA EAST – 7:00 PM
Fri – 11/01/19 – at Fairfield – 7:00 PM

HOME SWEET HOME
Since 2004, Colerain has gone a combined 79-3 at home.

KINGS OF THE GMC
Colerain has won 19 consecutive titles. The Cardinals currently have a 68-game winning streak against their GMC league rivals. The last time they lost a conference affair was on October 3rd, 2008 at Middletown, 42-39.

REGIONALLY SPEAKING
This was the third final four appearance in the last four years for Colerain. They become just the fifth team from the Cincinnati area to accomplish that feat in the last 31 years – La Salle (2016, '15, '14), Moeller (2014, '13, '12), Clinton-Massie (2013, '12, '11) and Princeton (1990, '88, '87).