5 Best Bets: Week 1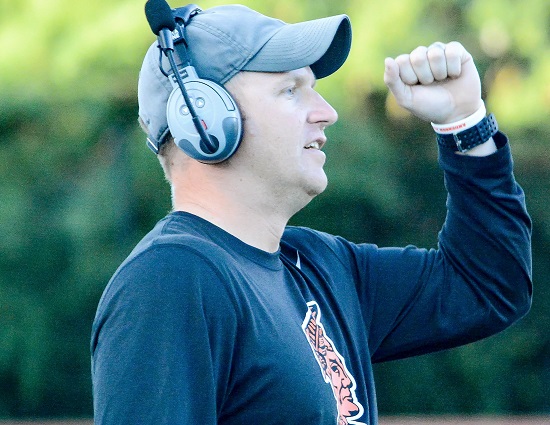 Week 0 is in the books, and it's now time for the rest of the Tri-state area to kick off their 2019 season. With players and coaches ready for an exciting year, here are some of the mar key week 1 matchups in this weeks 5 Best Bets.
#3 COLERAIN at WAYNE
New head coaches will roam the sidelines for the Cardinals and Warriors. Shawn Cutright takes over for long time coach Tom Bolden, who left for Lakota West. He has been with the Cards for over 15 years as a defensive coach and coordinator. Roosevelt Mukes takes over for Jay Minton after 20 years. Mukes has also spent many years on the staff as a wide receivers coach. This game will ultimately come down to who can keep the chains moving and grab a key turnover or two. Colerain is replacing virtually their whole offense. Wayne has struggled on the defensive side of the ball over the past two years. They gave up more than 30 points per game in their losses in 2017, and that number skyrocketed to 40 in 2018.
#7 PRINCETON at #17 MILFORD
Here are two teams that went in opposite directions in 2018. For the Vikings, almost nothing went right as they had to forfeit their first four games and went 3-7 overall. For Milford, it was one of their better seasons in program history, especially on offense. Princeton has big names and top level division one athletes on both sides of the ball. Darrion Henry (Ohio State commit) and Jaheim Thomas (UC commit) on defense, and Paris Johnson Jr. (Ohio State commit), who transferred from St. Xavier. Head Coach Mike Daniels is ready to go with a relatively experienced and star-studded team. They will look to pounce on a Milford squad that lost the top rusher in the ECC in Cameron Kells, and star receiver Dylan Hughes. Combined they accounted for more than 2,000 yards of total offense. Senior quarterback Hunter Johnson will have to take the next step and carry a bigger load if Milford wants to win this game, and ultimately have another winning season.
#13 LAKOTA WEST at #10 LASALLE
This matchup is intriguing as it gets for a plethora of reasons. The vibe around Lakota West football hasn't been this high in many years. Tom Bolden came over from Colerain after dominating the conference and winning 12 straight titles. LaSalle has been somewhat of a thorn in Tom's side over the years, going 3-2 against him in head-to-head matchups. Although last year Colerain defeated the Lancers 23-0. LaSalle failed to reach the postseason in 2018. Lakota West will be a completely different football team than the one you have seen over the years. If Bolden's tenure with the Cards taught us anything, they will be fast, physical, disciplined, and prepared for every game. The two David's will be the X factors this year. David Afari, who is the starting RB and the centerpiece of the triple-option offense, and David Jones, who has multiple college offers and is the heartbeat of the defense. Lancers' head coach Pat McLaughlin has his work cut out for him, but he has a lot of juniors with experience. This game has the look of being a hard-nosed type of contest with explosive plays coming at a premium.
ANDERSON at #11 SIMON KENTON
This contest has the possibility to be a scoring fest. Anderson is coming off a 9-4 year and a deep playoff run. The main accomplishment that has eluded this team is a conference title. The Redskins haven't claimed an outright championship in over six years. Anderson has a new quarterback at the helm with Jackson Kuhn taking things over under center. Simon Kenton already played their first game of the season, taking down Henry Clay by a final score of 38-27. They got big contributions by running back Erik Brown, who showed flashes of possibly being a gamebreaker. With one game down and some of the new season rust already shaken off, look for the Pioneers to come out early and try to pounce on the Redskins.
TURPIN at #12 LAKOTA EAST
The Spartans had a hard time finding consistency in 2018. Winning back-to-back games only twice, there weren't many times where the offense and defense showed up simultaneously. Lakota East finished third in the GMC last year, but even in respectable years they've struggled to get attention, being in the same conference as Colerain and Mason. The offense was the story for the Thunderhawks last year. When they scored 30 points or more, their record was 6-1. In two out of their four losses, they didn't even muster a touchdown. Head coach Rick Haynes is determined to get his team over the edge and get an outright GMC title, the last time the Thunderhawks were on top of the conference was 2014, when they shared the title with Colerain. If Turpin struggles finding their groove again, this one could get ugly quick, but with it being the first game of the season, everything is on the table.

GAME OF THE WEEK: #18 HAMILTON AT WEST CLERMONT
Make sure to check out the COMPLETE PREVIEW for this week's featured game on the Blitz 5 Tour.
+++
Here are some other games for teams ranked inside the Blitz 5 Top 25 presented by TriStateFootball.com:
OHIO
#1 Elder at Gahanna Lincoln
Brownsburg at #2 St. Xavier
Centerville at #4 Fairfield
#6 Moeller vs. Cathedral (Saturday)
Loveland at #16 Sycamore
#19 Harrison at Butler
#20 Edgewood at Monroe
Kings at #21 Lebanon
#22 Middletown at Western Hills
Tippecanoe at #23 Mount Healthy
#24 Wyoming at Columbus Academy
KENTUCKY
#8 Covington Catholic at Campbell County
#15 Highlands at Knoxville Catholic (TN) (Saturday)
Conner at #25 Ryle
INTERSTATE
Oak Hills at #14 East Central