2019 Snapshot: Xenia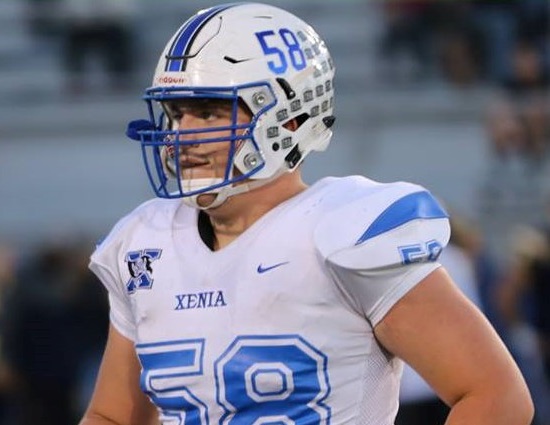 Xenia OL Gavin Gerhardt (photo courtesy of ScoutingOhio.com)
A rare league championship in 2018 has Xenia and its fans wanting more this fall. There are higher aspirations for the Buccaneers this season as they look to make the playoffs for the first time in program history.
Xenia moves to the Miami Valley League, Valley Division with Fairborn, Sidney, Stebbins and West Carrollton. That means no more Trotwood-Madison on the schedule a team which the Bucs upset a year ago. It was a win that brought validity to Xenia and what it is trying to accomplish under head coach Trace Smitherman.
The Bucs will be big up front on both sides of the line. They are a veteran group in the trenches. It will be a strength that only aids them as the season wears on.
The team graduated a very good senior class. This will be a young squad just about everywhere else but the lines. If they can manage to stay focused, a postseason berth is not out of the question. It won't be easy though in a loaded Region 8.
Division II, Region 8
2018 RECORD: 7-3, 4-0 GWOC American South
COACH:  Trace Smitherman (9-11 at Xenia, two years; 30-70 overall, 10 years)
TOP RETURNEES
Gavin Gerhardt, Sr, OL/DL – The 6-foot-5, 315-pound Gerhardt is the anchor of the offensive line. He was named First Team All-GWOC American South as a junior. Gerhardt has verbally committed to Cincinnati.
Isaiah Hoyt, Jr, QB/DB – A two-year letterman, Hoyt heads into his junior year with 60 total tackles at the varsity level.
Kevin Johnson, Jr, RB/DB/RS – Will become the Bucs featured back this season. Johnson was a First Team All-GWOC American South selection after running for 339 yards, amassing 667 all-purpose yards with four touchdowns (two rush, one rec, one PR) as a sophomore. He also had 15 total tackles and two interceptions on defense.
Chris Jones, Sr, WR/DB – Back for his third season as a starter, Jones had 35 total tackles and three interceptions last fall. He earned First Team All-GWOC American South honors for his work.
Brett Russell, Sr, QB/DB – The versatile Russell ran for 104 yards, had eight receptions and found the end zone four times (one rush, three rec) in 2018. He was named First Team All-GWOC American South for his work.
EJ Wilson, Sr, OL – A highly intelligent offensive lineman. The 6-foot-4, 290-pound Wilson was named Second Team All-GWOC South in 2018. He has offers from Air Force, Colorado State, Robert Morris, Youngstown State, Fordham, Eastern Kentucky, Eastern Illinois, Brown, Dartmouth and Yale.
Devin Hall, Sr, WR/DE – Bac for his third season as a starter Hall has been an asset to the Bucs rushing attack. He has 130 total tackles, six-and-a-half sacks, three forced fumbles and two fumble recoveries in his career.
Cade Kadel, Sr, OL/DL – Will be a leader on both sides of the line.
PLAYOFF HISTORY
(0 appearances, 0-0)
2019 SCHEDULE
Fri – 08/30/19 – BEAVERCREEK – 7:00 PM
Fri – 09/06/19 – at Eaton – 7:00 PM
Fri – 09/13/19 – at Franklin – 7:00 PM
Fri – 09/20/19 – at Stebbins – 7:00 PM
Fri – 09/27/19 – SIDNEY – 7:00 PM
Fri – 10/04/19 – at Butler – 7:00 PM
Fri – 10/11/19 – at Piqua – 7:00 PM
Fri – 10/18/19 – TIPPECANOE – 7:00 PM
Fri – 10/25/19 – TROY – 7:00 PM
Th – 10/31/19 – at Fairborn – 7:00 PM