2019 Snapshot: Conner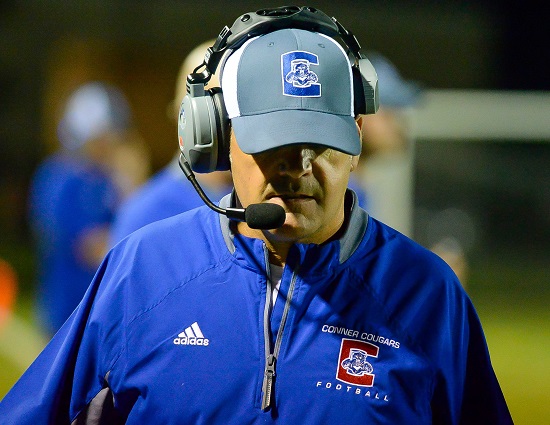 The Cougars have been a consistent force in Northern Kentucky for years now. Head Coach Dave Trosper has made this program into a consistent winner and is always a problem during playoff time.
"Offensively, we have a lot of hardworking players and coaches in the room. They continue to put in the time and effort to make sure we are improving every day," Trosper claimed.
"Defensively, we have a really solid secondary," the coach added. "That will help us against some of the really good aerial attacks we face."
One of the question marks facing the Cougars is the team's lack of offensive line depth. Being two deep at those positions is crucial, so Conner will need newcomers to step up.
On the other side of the ball, they are really young at linebacker. However, Trosper appeared confident with the reps his young guys will get there and their playmaking ability.
"As a team, we have a lot to be excited about, and a lot to build on," Tropser said. "There's a real sense of team unity. Our goal, just like anyone else is to win a state championship. It should be a fun ride in 2019."
Class 5A, District 5
2018 RECORD: 9-4, 2-0 Class 6A, District 5
COACH: Dave Trosper (76-61 at Conner, 12 years; 92-88 overall, 17 years)
TOP RETURNEES
Michael Neal, Sr, OL: The leader of the Conner offensive line, Neall has All-NKY potential.
Jared Hicks, QB/ DB: Moved to quarterback last season and did quite well. Hicks threw for 1,130 yards, ran for 178 yards and accounted for nine touchdowns (five pass, four rush). He also has 69 total tackles and three interceptions in his career.
Noah Benza, Sr, DL: Despite playing just eight games as a junior, Benza still managed to get in on 30 total tackles and recovered three fumbles. He has five fumble recoveries in a Cougars' uniform.
Sam Clements, Jr, OL: Did a solid job up front for an offense that amassed 4,129 yards of total offense and scored 41 total touchdowns.
Colten Roy, Jr, LB: Had 31 total tackles and three tackles for losses in his varsity debut as a sophomore.
Drew Siegmundt, Sr, DB: Part of secondary that will be a strength of the Cougars this fall. Siegmundt tallied 20 total tackles in 2018.
Justin Daniels, Sr, DB: A returning starter in the secondary, Daniels 30 total tackles and two interceptions in 2018.
Drew Cobble, Sr, slot/DB: A two-way contributor Cobble will become an integral part of the offense this season. He had 16 receptions for 138 yards, 35 total tackles with a fumble recovery and an interception as a junior.
Chase Kurtz, Sr, DL: Will team with Benza to make a formidable defensive front. Kurtz was in on 36 total tackles and had three sacks a year ago.
NEWCOMERS
Trosper and the Conner staff believes a trio of sophomores RB/LB Parker Hitzfield, QB/WR/DB Alex Castrucci, Alex and OL/DL Mason Delph can step in and help immediately.
PLAYOFF HISTORY
State Champion (one) – 1983 (3A).
State Runner-up (one) – 1980 (3A).
2019 SCHEDULE
Sat – 08/24/19 –at Madison Central – 8:00 PM (Roy Kid Bowl)
Fri – 08/30/19 – at Ryle – 7:00 PM
Fri – 09/06/19 – at Dixie Heights – 7:00 PM
Fri – 09/13/19 – LLOYD MEMORIAL – 7:00 PM
Fri – 09/20/19 – CAMPBELL COUNTY – 7:00 PM
Fri – 09/27/19 – at Boone County – 7:00 PM
Fri – 10/04/19 – at Highlands – 7:00 PM
Fri – 10/11/19 – COOPER – 7:00 PM
Fri – 10/18/19 – BYE
Fri – 10/25/19 – COVINGTON CATHOLIC – 7:00 PM
Fri – 11/01/19 – GEORGE ROGERS CLARK – 7:30 PM
WINNING CONSISTENTLY
Conner has won eight or nine games five times in the last seven years.