2019 Snapshot: Greensburg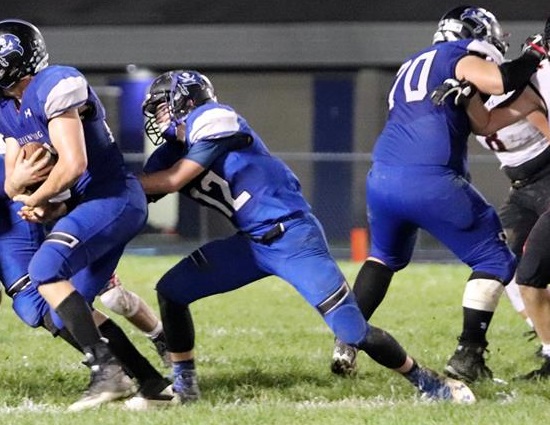 Getting out of the gate is so important for the confidence of this year's Greensburg squad. The Pirates come into this season having lost their last six games a year ago after starting 3-1.
Despite the graduation of nine starters, Greensburg still has some nice pieces of the puzzle in place.
"Our offensive and defensive lines return a lot of talent. Key players in the backfield will be back to allow us to do different things on offense," head coach Scott Moore stated.
The Pirates scored 34 points or more five times in 2018 and that was with a sophomore starting at quarterback.
Defense is a different story. Greensburg allowed 40.8 points during the final six losses a year ago. The last time the Pirates allowed less than 38 points was September 14, 2018, 23 months ago. This side of the ball should be much better with size in the trenches and a group of experienced and athletic players in the linebacker rotation.
The back half of the schedule will be tough again. A Week 2 at Triton will tell us plenty about how Greensburg stacks up against the top teams on its slate. It all comes down to playing for "Pirates Pride." It's just going to be how much does this squad want it more on Friday nights.
Class 3A, Sectional 31
2018 RECORD: 3-7, 1-2 EIAC 3A
COACH: Scott Moore (55-59 at Greensburg, 11 years; 55-59 overall)
HONOR ROLL
Clint Lorenz, Sr, OL: The 6-foot-8, 300-pounder was IFCA Class 3A Junior All-State (OL) selection as a junior. He was just as good on defense with 37 total tackles and six tackles for losses.
Aaron Moeller, Sr, LB: Claimed Class 3A All-EIAC honors in 2018 after recording 50 total tackles with seven tackles for losses and a sack. Moeller 73 total tackles with 11.0 tackles for losses, one fumble recovery and three sacks at the varsity level.
OTHER RETURNEES
Toby Brogan, Jr, QB: With a year under his belt, Brogan should look even better at quarterback. He amassed 925 yards of total offense (531 pass, 394 rush) and accounted for 12 touchdowns (six pass, six rush) as a sophomore. Brogan also had 15 total tackles and an interception.
Cole Nobbe, Sr, DB/WR: Back for his third year as a starter in the secondary, Nobbe has 77 total tackles in his career. He will have an even bigger role at receiver this season.
Daimon Austin, Sr, WR/DB: Has shown a knack for the big play as both of his receptions went for touchdowns a year ago.
Robbie Lorenz, Jr, OL/DL: The Pirates are expecting big things from the 6-foot-4, 230-pound Lorenz this fall.
Isaiah Myer, Sr, RB/LB: A returning starter, Myer was in on 37 total tackles and had a fumble recovery as a junior.
Noah Schweinhart, Jr, RB/LB: Could be a breakout year for Schweinhart who ran for 221 yards and three touchdowns as a sophomore.
Avery Moore, Sr, WR: As the Pirates passing game expands Moore will see more looks in open spaces.
Eric Lowe, Sr, LB: In his first season as a starter Lowe tallied 48 total tackles. Along with classmates Moeller and Myer, Greensburg has very formidable linebacking group.
NEWCOMERS
Several players look to break into the starting lineup this season. Senior LB Jacob Evans, sophomore DB Corbin Matthews and junior RB/LB Jalen Woods will be thrown into the fire on Friday nights. Matthews played in seven games and 13 total tackles as a freshman.
PLAYOFF HISTORY (29-34)
Sectional Champion (two) – 2012 and 1989.
2019 SCHEDULE
Fri – 08/23/19 – SHELBYVILLE – 7:00 PM
Fri – 08/30/19 – at Triton Central – 7:00 PM
Fri – 09/06/19 – at Connersville – 7:00 PM
Fri – 09/13/19 – LAWRENCEBURG – 7:30 PM
Fri – 09/20/19 – SOUTH DEARBORN – 7:00 PM
Fri – 09/27/19 – at Franklin County – 7:00 PM
Fri – 10/04/19 – BATESVILLE – 7:00 PM
Fri – 10/11/19 – at East Central – 7:30 PM
Fri – 10/18/19 – RUSHVILLE – 7:00 PM
Fri – 10/25/19 – TBD – First Round IHSAA Playoffs
*Image by Linda Lyness Maxwell