2019 Snapshot: Indian Hill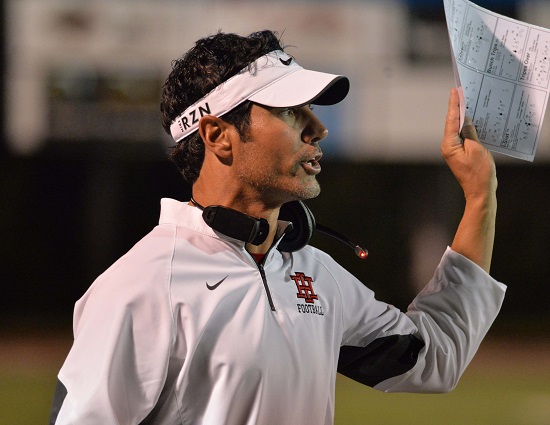 Coming off one of their best seasons in program history, Indian Hill looks to carry the momentum into 2019. After a heartbreaking 20-17 second-round playoff loss against the kings of the conference, Wyoming.
Head Coach Tony Arcuri and the rest affiliated with the program know they are good enough to take the next step.
"We have a lot of speed and athleticism on our team. We will do the best we can to let our athletes shine," Arcuri stated while also noting that there is some concern about the trenches for 2019. "We graduated multiple high end players on the offensive and defensive lines. Our depth right now is something we are working on."
Indian Hill is looking to break through and make a run at a state championship game. They have made it to the playoffs in four consecutive seasons, but have had early exits in each year. We will see if this is the year the Braves finally get over the hump.
Division IV, Region 16
2018 RECORD: 9-3, 6-1 CHL
COACH: Tony Arcuri (44-13 at Indian Hill, five years; 56-21 overall, seven years)

TOP RETURNEES
Charlie DiGennaro, Jr, WR/DB: An impressive varsity debut saw DiGennaro lead the secondary with 54 total tackles. That effort was what got him named OPSWA Division IV, Second Team All-Southwest District.
Luke Lundberg, Sr, K: Was named OPSWA Division IV, First Team All-Southwest District after connecting on 55-of-60 extra points and 9-of-10 field goals for 82 points as a junior. Lundberg is 99 points away from setting the record for most career points scored kicking in the state of Ohio (Charlie Kuhbander, Springboro/Northwestern – 305). For his career, Lundberg has connected on 150-of-160 extra points and 19-of-24 field goals for 207 points.
Alex Lindberg, Sr, WR/DB: Another key cog in that sensational secondary. Lindberg was named First Team All-CHL after getting in on 29 total tackles and snaring an interception as a junior. Look for him to play a bigger role in the passing game after catching 14 balls for 218 yards a year ago.
Charlie Lindberg, Sr, OL/DL: One of the leaders of the offensive line, Lindberg was named Second Team All-CHL last season. He also has 44 total tackles and two-and-a-half sacks in his career.
Trey Lopez, Sr, WR/DB: A two-time Second Team All-CHL selection, Lopez has excelled in all three phases of the game. He is a stat sheet filler with 125 yards passing, 264 yards rushing, 46 receptions for 710 yards, 918 return yards, 1,892 all-purpose yards, 14 total touchdowns (six, rec, four rush, four PR), 57 total tackles and three interceptions in his career…….WHEW!
Matt Briedis, Sr, OL: Anchors the o-line with classmate Lindberg. Briedis is a two-time Honorable Mention All-CHL performer.
Luke Hammond, Jr, WR – As a sophomore Hammond hauled in 16 receptions for 179 yards and four touchdowns. He was named Honorable Mention All-CHL for his work.
Ty Thornton, So, QB: Could be the next great Indian Hill quarterback. A gifted athlete with an arm to match. Thornton was named Honorable Mention All-CHL as a freshman after throwing for 46 yards with one touchdown pass, 14 total tackles and an interception.
Duke Wyler, Sr, RB/DB: Now gets his chance to shine after sitting behind a very gifted back in Demetrius Baylor. Wyler was an Honorable Mention All-CHL pick as a junior.
Will Klekamp, Jr, LB: Will be a three-year starter. Klekamp already has 109 total tackles and one-and-a half sacks heading into his junior year.
PLAYOFF HISTORY
(12 appearances, 8-12) – 2018, 2017, 2016, 2015, 2007, 2006, 2005, 2004, 2001, 2000, 1999, 1996
2019 SCHEDULE
Fri – 08/30/19 – at New Richmond – 7:00 PM
Fri – 09/06/19 – McNicholas – 7:00 PM
Fri – 09/13/19 – AIKEN – 7:00 PM
Fri – 09/20/19 – at Deer Park – 7:00 PM
Fri – 09/27/19 – at Madeira – 7:00 PM
Fri – 10/04/19 – MARIEMONT – 7:00 PM
Fri – 10/11/19 – READING – 7:00 PM
Fri – 10/18/19 – at Taylor – 7:00 PM
Fri – 10/25/19 – FINNEYTOWN – 7:00 PM
Fri – 11/01/19 – at Wyoming – 7:00 PM
AMONGST THE BEST
Indian Hill has won a combined 38 games (38-9) over the past four years. That is tied for the third most victories for a four-year period in program history. The Braves also won 38 games (38-7) from 2003-06. Indian Hill won 41 games (41-7) from 2004-07 and 39 games (39-7) from 2005-07.
LIGHTING UP THE SCOREBOARD
Over the last four seasons in their last 38 wins the Braves have scored 40 or more points in 29 nine of those games. Indian Hill has scored 50 points or more in 12 of those victories, 60 or more points seven times and 70 or more points twice.