Top 2020 talent commits early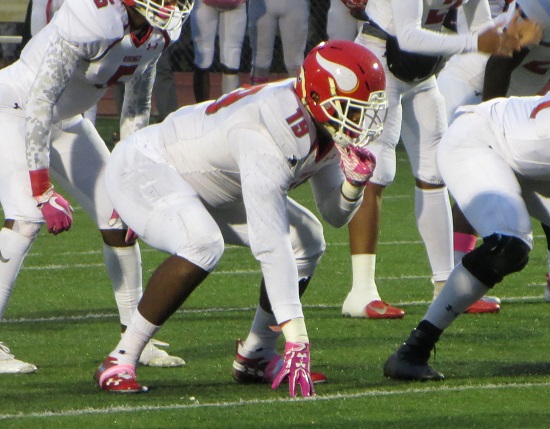 There may not be as many FBS Division I recruits as in years past, but the upper echelon talent locally is as good as ever. What the Class of 2020 lacks in quantity it more than makes up for with quality.
After not signing a Cincinnati area player a year ago, Ohio State has verbal commitments from five locals this season including Princeton's DL Darrion Henry and OL Paris Johnson Jr., La Salle K Jake Seibert as well as TE Joe Royer and OL Jakob James from Elder. Four of these players —Johnson (1), Royer (3), Henry (12) and James (16)— are rated in the top 16 in Ohio by 247Sports.
The Cincinnati Bearcats have verbals from four area players —Wyoming QB Evan Prater, Lakota West LB Daved Jones, Colerain DB DeShawn Pace and Princeton LB Jaheim Thomas. Prater was the OPSWA Ohio Division IV Player of the Year in 2018. He was simply sensational for the undefeated state champion, Wyoming Cowboys (15-0), racking up 3,969 yards of total offense (2,181 pass, 1,788 rush), accounting for 60 touchdowns (32 rush, 28 pass) with only had six turnovers (four INT's).
The 2018 OPSWA Ohio Division II Player of the Year and TriStateFootball.com (TSF) Cincinnati Offensive Player of the Year, Winton Woods RB Miyan Williams, has decided to follow in the footsteps of former Mount Healthy star and now Chicago Bear, David Montgomery, and will attend Iowa State. Williams ran for 2,824 yards with 38 touchdowns and 2,917 all-purpose yards as Winton Woods (12-2) won its second straight regional title a year ago. He ran for 430 yards in the Warriors' epic 49-42 comeback win over Olentangy in the first round of the playoffs.
Kentucky has gotten verbal commitments from Fairfield RB Jutahn McClain and Moeller DB Carrington Valentine. McClain ran for 1,754 yards, caught 24 passes for 416 yards, racked up 2,320 all-purpose yards and found the end zone 31 times (25 rush, five rec, one KR) as a junior. That effort earned him OPSWA Division I First Team All-Ohio, OPSWA Southwest District Offensive Player of the Year and GMC Offensive Player of the Year honors. District OPOY & GMC OPOY honors. McClain had 437 all-purpose yards and seven touchdowns in the opener versus Centerville.
The in-state recruit that got away from Kentucky is Covington Catholic TE/LB Michael Mayer, who has committed to Notre Dame. The versatile Mayer was the TSF Northern Kentucky Defensive Player of the Year as a junior. He had 46 receptions for 1,029 yards and averaged 22.3 per reception with 12 touchdown catches on offense for the Colonels last fall. Defensively, he was in on 98 total tackles, with three sacks, 20 tackles for losses, forced four fumbles, recovered four fumbles and had a 76-yard pick six. He will play tight end for the Fighting Irish.
OTHER COMMITMENTS
David Afari, Lakota West, RB, 5-9.5/198 – Verbally committed to Miami (OH).
DeMeer Blankumsee, Winton Woods, WR/DB, 6-1/173 – Verbally committed to Toledo.
Sawiaha Ellis, Fairfield, ATH, 6-2/220 – Verbally committed to Toledo.
Elijah Eberhardt, Princeton, DB, 6-1/175 – Verbally committed to Bowling Green.
Miquan Grace, Winton Woods, DB, 6-0/185 – Verbally committed to Rutgers.
Brycen Huddleston, Highlands, LB, 6-0/210 – Verbally committed to Eastern Michigan.
Juan Jarrett, Princeton, OLB, 6-2/190 – Verbally committed to Kansas.
Luke Kandra, Elder, OG, 6-4/290 – Verbally committed to Louisville.
Marshall Lang, St. Xavier, TE, 6-4/225 – Verbally committed to Northwestern.
Cameron Porter, La Salle, RB, 5-11/190 – Verbally committed to Northwestern.
OFFERS BUT NOT COMMITTED
MyJaden Horton, Princeton, QB, 6-2/180 – Offers from Kentucky & Louisville.
Ross Parrish, Anderson, TE, 6-3/220 – Offers from Akron, Indiana, Columbia & Yale.
Harrison Shepherd, Wyoming, DL, 6-4/230 – Offer from Western Michigan.
Khaliyal Sowell, Hamilton, ATH, 5-10/165 – Offer from Indiana.
James Thompson, Roger Bacon, OL/DE, 6-3/235 – Offers from Akron, Ball State, Navy & Wisconsin