2019 Snapshot: Clinton-Massie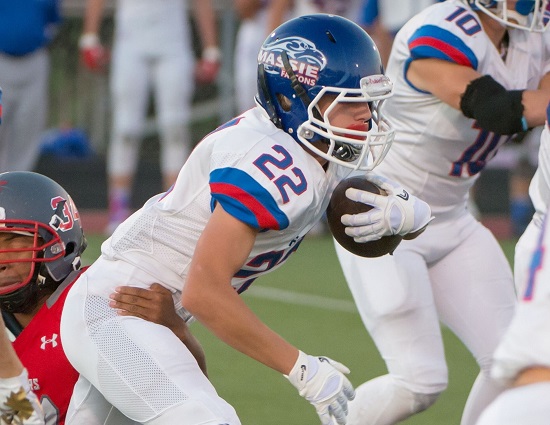 With 17 consecutive playoff appearances, winning for Clinton Massie has become an expectation and a tradition. Since 1998, they have reeled off two state championships and a state runner up. Coming off an undefeated conference schedule and a second-round playoff berth, The Falcons look to keep on keeping on.
Coach Dan McSurely has won almost 80 percent of his games as the head coach of Clinton Massie. The coach is optimistic those fortunes will continue in the season ahead.
"We have a lot of speed and athleticism that we will put on display," McSurley claimed. "Losing six starters on offense and four on defense is never easy to replace, but we have the hardworking kids and coaches to get it done."
Division IV, Region 16
2018 RECORD: 10-2, 5-0 SBAAC American
COACH: Dan McSurley (217-61 at Clinton-Massie, 23 years; 237-81 overall, 27 years)
HONOR ROLL
Brendan Lamb, Sr, RB: Coach McSurley calls Lamb, "legit." He ran for 1,125 yards, found the end zone 21 times (20 rush, one rec) and five contests of three or more touchdowns, in nine games as a junior. Lamb was named OPSWA Division IV Second Team All-Southwest District despite not playing the second half of seven games last fall because of big Clinton-Massie leads.
Garrett Trampler, Sr, RB/DB: One of the best return men in Southwest Ohio and a pretty good defensive back as well. Trampler was a Second Team All-SBAAC American selection as a junior. He has 878 career return yards, four punt return touchdowns, one kickoff return touchdown, two fumble recoveries and four interceptions in his career.
Davis Wulf, Sr, OL: Was a key blocker for a Falcons' squad that churned out 4,328 yards, averaged 360 yards per game with 60 touchdowns rushing in 2018. Wulf's effort earned him Second Team All-SBAAC American accolades.
OTHER RETURNEES
Colton Doyle, Jr, OL: A returning starter, Doyle will join Davis Wulf up front, opening holes for Lamb and Fredricks.
Grant Avey, Sr, K: Was a huge weapon on special teams. Avey averaged 47.3 yards with six touchbacks on 67 kickoffs, connected on 58/63 extra point attempts and both of his field goal tries for 64 points last fall.
Robby Fredricks, Sr, RB: Is a nice compliment to Lamb out of the backfield. Fredricks ran for 794 yards, averaged 9.2 yards per carry with seven touchdowns as a junior. He had three runs of 60 or more yards and another of 51-yards over his last 70 carries. Fredricks has 1,002 yards and 12 touchdowns rushing over the past two seasons.
Tate Olberding, Sr, SE/DB: A returning starter in the secondary, Olberding has two career interceptions.
Brook Speaks, Sr, LB: Will be the leader of the Falcons linebacking corp. Speaks had a sack and an interception as a junior.
NEWCOMERS
Many players will vie for snaps in the defensive rotation including seniors SE/DB Devon Noble, DT Braxton Green, DB Nolan Prignitz, LB Caden Clutter sophomores DB Carter Frank, DE Daylan Maple and DT Colton Trampler. Joining fellow classmates, Frank, Maple and Trampler but getting their chance for playing time on offense are RB Carson VanHoose, QB Cody Zantene, OL Charlie Hale, OL Brody Muterspaw. Zantene will get more than a fair look under center. McSurley has always had good intuition of knowing when to start a sophomore at quarterback. This feels like another one of those times when he may pull on that trigger move again.
PLAYOFF HISTORY
(18 appearances, 32-16) – 2018, 2017 (State Runner-up), 2016, 2015, 2014, 2013 (State Champion), 2012 (State Champion), 2011 (Regional Champion), 2010, 2009, 2008, 2007, 2006, 2005, 2004, 2003, 2002, 1998
2019 SCHEDULE
Fri – 08/30/19 – EAST CLINTON – 7:00 PM
Fri – 09/06/19 – AVON LAKE – 7:00 PM
Fri – 09/13/19 – FENWICK – 7:00 PM
Fri – 09/20/19 – BLANCHESTER – 7:00 PM
Fri – 09/27/19 – at Bishop Hartley – 7:00 PM
Fri – 10/04/19 – at Goshen – 7:00 PM
Fri – 10/11/19 – WESTERN BROWN – 7:00 PM
Fri – 10/18/19 – at Batavia – 7:00 PM
Fri – 10/25/19 – NEW RICHMOND – 7:00 PM
Fri – 11/01/19 – at Wilmington – 7:00 PM
OPENING BIG HOLES
Of the 14 players who had rushing attempts (including seven players with seven carries or fewer) in 2018, 11 of them had runs of 25 yards or longer (10 players with runs of 32 yards or more). The Falcons return seven players who have ran for touchdowns at the varsity level.
*Photo Clinton-Massie DB/RS Garrett Trampler (by David Shelton)