2019 Snapshot: Kings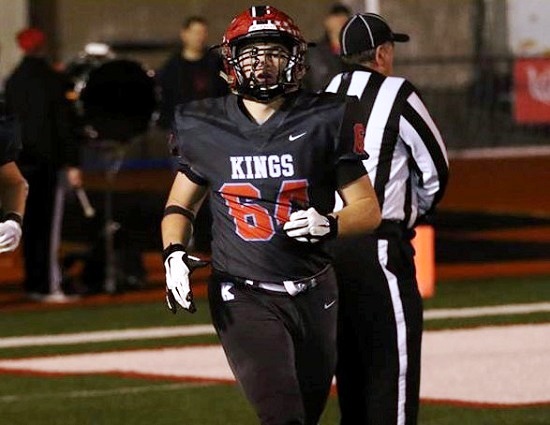 Things are going to look a lot different on the field and on the sidelines for Kings in 2019. Alex Garvin takes over as the head coach after spending the last 10 years as an assistant for the Knights.
Garvin undoubtedly up for the challenge and ready to get the season started.
The team graduated some really good football players last year, 14 starters to be exact. There is a lot of youth and inexperience on this year's Kings' squad.
"Having unknowns is exciting for me and our players," Garvin said. "It's a fresh start, and we can't wait to get out there and get better every single day."
Replacing Coach Andy Olds is a very tall order. You can't find over 170 wins, 14 playoff appearances and three ECC titles just anywhere.
Kings has made the playoffs seven of the past nine years, but are at the point in the program where they want to make a deep run, not just get there.
Expectations are to be tempered with a new head coach, but with Garvin being in the system for a decade and the pool of talent continuing to flow into the program, don't expect Kings to fall off anytime soon.
Division II, Region 8
2018 RECORD: 8-3, 6-1 ECC
COACH: Alex Garvin (0-0 at Kings, first year; 0-0 overall)
HONOR ROLL
Gabe Hicks, Sr, LB: A two-time Second Team All-ECC performer, Hicks is one of the best linebackers in the ECC. He added some weight and is listed at 6-foot-2, 220-pounds. Now, Hicks looks the part of a Division I-AA recruit with the on-field production to back it up.
Ty Stylski, Jr, RB: He has just been so hard to keep off the field since his freshman year. Now, Stylski gets his time to shine. He was named Second Team All-ECC in 2018. Stylski has 273 yards rushing, three rushing touchdowns, 431 total return yards and 739 all-purpose yards at the varsity level.
OTHER RETURNEES
Jaxon Smith, Sr, OL: The 6-foot-3, 270-pound Smith played well as a junior. Now a leader of the Knights' offensive line, there are aspirations of being an all-conference performer for Smith.
Xavier Legault, Sr, OL: Despite being undersized, Legault has worked his way into being a high-level performer on the o-line. He looks to build upon his solid play from a year ago and help lead the Knights to another successful season.
Jack McHugh, Sr, WR: One of the top receivers in the ECC. Last season, McHugh had 33 receptions, 664 yards and six touchdowns receiving while averaging an eye-popping 20.2 yards per catch.
Ryan Vogt, Sr, DE: Look for coach Garvin to cut loose Vogt from his end position even more this fall. Vogt has the speed to make like miserable for opposing tight ends and tackles. He had two sacks and a fumble recovery in 2018.
Devin Squires, Sr, DL: A solid piece on the interior of the Knights d-line. The 240-pound Squires can pose some real problems for opposing centers and guards.
Hunter Henry, Sr, DB: The anchor of the secondary. The highlight of Henry's junior season was a 20-yard pick six at Walnut Hills.
Gabe Hunt, Jr, WR: The small but mighty, 5-foot-9, 145-pound Hunt, proved to be surprisingly valuable weapon for the Kings' offense in 2018. He ran for 47 yards, had a touchdown the ground, with another 276 yards on 23 receptions and a pair of receiving touchdowns. Look for coach Garvin to give Hunt substantially more touches per game this year, making Hunt a viable an all-conference candidate.
Adrian Razo, Jr, OL/DL: At 6-foot-3 and 320-pounds, Razo can even block the sun. Watching Stylski run behind his classmate for the next two seasons should be fun for Knights fans. Razo will be a crucial cog in Kings success in goal-line and short-yardage situations, on both sides of the line.
PLAYOFF HISTORY
(14 appearances, 13-14) – 2108, 2016, 2015, 2014, 2013, 2011, 2010, 2008, 2007, 2005, 2004, 2003, 2002, 1999
2019 SCHEDULE
Fri – 08/30/19 – at Lebanon – 7:00 PM
Fri – 09/06/19 – SYCAMORE – 7:00 PM
Fri – 09/13/19 – NORTHWEST – 7:00 PM*
Fri – 09/20/19 – at Anderson – 7:00 PM
Fri – 09/27/19 – TURPIN – 7:00 PM
Fri – 10/04/19 – at Withrow – 7:00 PM
Fri – 10/11/19 – WALNUT HILLS – 7:00 PM
Fri – 10/18/19 – at Milford – 7:00 PM
Fri – 10/25/19 – LOVELAND – 7:00 PM
Fri – 11/01/19 – at West Clermont – 7:00 PM
*Image: Kings OL Xavier Legault (courtesy of ScoutingOhio.com)