2019 Snapshot: Walton-Verona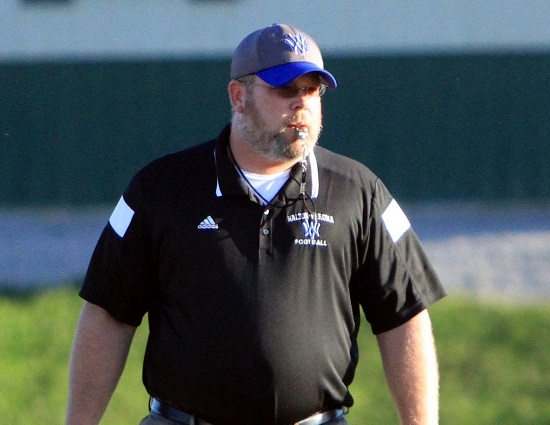 Jeff Barth may have to do his best coaching job yet in 2019. This is a team that wins, and wins at a consistent clip, although the squad is going to look astronomically different this season. Barth had a lot to say about getting ready for 2019.
"In terms of the strengths of this football team, we have a solid core of defenders returning with Josh Walton and Dawson Catlett on the defensive line, Gavin Knight at linebacker with Travis Brauer and Tristen Spalding back in the secondary," Barth stated. "We have offensive weapons with Peyton Smith on the ground and Brauer through the air. They make us as dangerous and versatile as anyone."
The biggest concern for the team is its inexperience. They lost 15 of our 22 starters to graduation. Many of whom played both sides of the ball. The Bearcats' entire offensive line will be first-year starters.
"We will look for new guys to step up in the backfield and everywhere on defense," Barth said. "This should be an exciting year with a lot of new blood. A talented freshman class from last year will get a lot of opportunities to prove themselves at the varsity level."
Last season Walton-Verona made it all the way to the Class 2A state semi-finals. It was the deepest playoff run in program history. Despite the loss of 15 starters there is no reason this squad can't meet those heights and perhaps even more.
Class 2A, District 5
2018 RECORD: 1-3, 3-0 Class 2A, District 5
COACH: Jeff Barth (80-40 at Walton-Verona, 10 years; 80-40 overall)

TOP RETURNEES
Peyton Smith, Sr, RB: Primed for an explosive year. Smith ran for 695 yards, had 12 receptions for 205 yards and found the end zone 14 times as a junior.
Travis Brauer, Sr, WR/DB: A receiver and defensive back in the past, Brauer may end up under center. As a junior, he had 25 receptions for 290 yards, scored six times (five rec, one rush), was in on 16 total tackles, with a fumble recovery and a team-high three interceptions.
Tristen Spalding, Sr, RB/DB: Started in the secondary last year. Spalding will move on offense from wide receiver to running back. He should have a highly productive senior campaign.
Shane Thomas, Sr, C: Returns as the starting center where Thomas helped a Walton-Verona offense that rushed for 3,016 yards (215.4/game), threw for over 729 yards and averaged 30.0 points a game in 2018. Thomas will also see more time on defense this year.
Josh Walton, Sr, WB/TE/DE/OLB: A physical and athletic player productive on both sides of the ball. Walton started on defensive line and rotated often as a blocking back. He might play tight end or even tackle, if the Bearcats becoming shorthanded on o-line.
Dawson Catlett, Jr, RB/LB: Returns after recording 60 total tackles, 5.5 sacks and 16.0 tackles for losses as a sophomore. Catlett also had 186 rushing yards and three touchdowns. Catlett's role on offense will increase while being an absolute force at defensive end this fall.
Gavin Knight, Jr, OT/LB: Productive year last season as a sophomore with 30 total tackles, two forced fumbles, two fumble recoveries and an interception. Knight will also play offensive tackle, where he rotated in last year. Finished
PLAYOFF HISTORY (11-9 overall)
District Champion (1) – 2018
2019 SCHEDULE
Fri – 08/23/19 – at Lloyd – 7:30 PM
Fri – 08/30/19 – HOLY CROSS (Covington) – 7:30 PM
Fri – 09/06/19 – NORTH LAUREL – 7:30 PM
Fri – 09/13/19 – NEWPORT CENTRAL CATHOLIC – 7:00 PM
Fri – 09/20/19 – at CHCA (OH) – 7:30 PM
Fri – 09/27/19 – at Gallatin County – 7:30 PM
Fri – 10/04/19 – CARROLL COUNTY – 7:30 PM
Fri – 10/11/19 – at Owen County – 7:30 PM
Fri – 10/18/19 – SHAWNEE – 7:30 PM
Fri – 10/25/19 – BYE
Fri – 11/01/19 – at Holy Cross (Louisville) – 7:30 PM
DISTRICT DOMINANCE
Walton-Verona is a combined 26-1 in Class 2A, District 5 play over the past seven regular seasons. The Bearcats have won 21 of those games by 27 points or more. They have lifetime winning records against all-district foes: Gallatin County (9-1), Carroll County (8-2), Trimble County (7-2) and Owen County (7-1).