2019 Snapshot: Batesville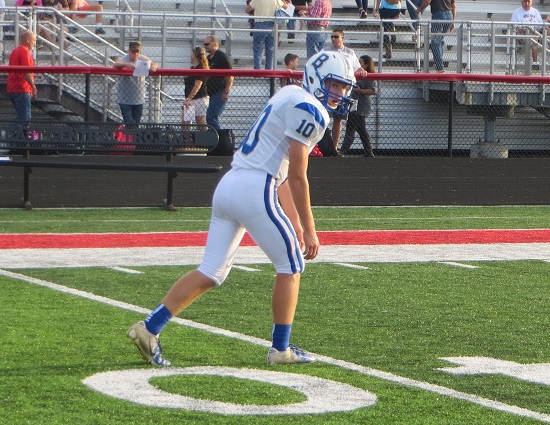 There is a ton of offensive production for Batesville to replace this fall. The Bulldogs graduated, Austin Siefert, the program's all-time leading receiver and quarterback Trey Heidlage, the school's all-time leading passer. Heidlage was also was 19 yards shy of breaking the all-time rushing record.
It's going take a committee to replace their numbers. Pulling together for one another will be a large of the makeup of this Batesville squad.
"There will be a lot of experience, depth, and overall talent on the offensive and defensive lines in 2019," head coach Evan Ulery stated. "All, but one starter will return, which includes two all-conference players. Their roles and production will have to increase."
There are concerns and unknowns for Batesville. The Bulldogs scored on their first offensive play of the game four times in 2018 and had about 20 more touchdown drives of a minute or less.
There are some questions around the explosiveness of the offense so the team will need to sustain drives if their impact players are unable to make big plays.
This will be a team that needs to find their identity. They will have a new signal caller and newer faces making plays on offense and defense. However, there are a lot of returner starters who will just need to elevate their play and be a bigger factor on the field and in the locker room.
Class 3A, Sectional 31
2018 RECORD: 9-3, 3-0 EIAC 3A
COACH: Evan Ulery (21-12 at Batesville, three years; 21-12 overall)
HONOR ROLL
Brayden Linkel, Sr, RB/WR/S: The free safety is a ballhawk and the quarterback of the defense. Linkel recorded 84 total tackles with a fumble recovery and three interceptions as a junior. He was named Class 3A All-EIAC for the effort. He also hauled in 34 receptions for 344 yards and three touchdowns on offense.
Sam Bowman, Sr, OL/DL: A starter since his freshman year, Bowman will anchor a starting offensive line that returns four starters. He was a Class 3A All-EIAC selection in 2018. Bowman is also a key contributor to a defensive line that will return all starters. He tallied 32 total tackles as a junior.
Charlie Dice, Sr, TE/DE/OLB: Had a breakout year in his first year of playing high school football. Dice was named Class 3A All-EIAC and led Batesville with 2.5 sacks while getting in on 39 total tackles and 5.5 tackles for losses. On offense, Dice averaged 29.5 yards on eight receptions for 236 yards and a touchdown.
OTHER RETURNEES
Austin Pohlman, Jr, QB/RB/LB: The front-runner to replace Trey Heidlage at quarterback. If that doesn't happen, Pohlman will still be a key contributor in the Bulldogs' rushing attack. He ran for 465 yards, had 19 receptions for 86 yards, found the end zone five times (four rush, one pass), threw a touchdown pass and had an interception as a sophomore.
Colt Swingle, Jr, OL/DL: Returning starter at nose tackle. Swingle had a great offseason and is primed for a big 2019 campaign.
Ben Schebler, Jr, LB: Was the surprise starter of 2018, who earned a starting job Week 1. Schebler is a tough hard-nosed kid who does not get outworked. He looks to help anchor the linebacker group for the next two seasons.
Jake Cruse, Sr, WR/DB: Will help give the Bulldogs offensive the "home run" threat with his speed. His role in the offense will look to expand with the departure of Austin Siefert and Heidlage.
Ethan Meyer, Sr, OL/DL: A returning starter on the offensive line, Meyer has emerged as a leader on and off the field with a solid offseason. He will also be a key contributor the defensive line.
Isaiah Riffle, Sr, RB/DB: It was a rollercoaster of ride for Rifle in 2018. He earned the opening week starter at running back, but then had a knee injury in Week 2 that sidelined him until the regular season finale. Rifle should be at the top of the depth chart in the backfield this fall. He also started at cornerback. Rifle plans to compete for a starting position in the secondary too.
Ryan Thayer, Jr, OL: Emerged midway through the 2018 season as he became a starter on the o-line. Thayer will slide from guard to center after the graduation of all-conference lineman, Alex Love.
Conner Batchelor, Sr, OL/DE/LB: A returning starter on the offensive line. Batchelor will look to play a bigger role on the defensive.
JT Linkel, Sr, WR/DB – Started a couple games in the secondary in 2018. Linkel should make more of an impact this fall.
NEWCOMERS
Even with all the returning veterans there are starting positions to be won. Juniors RB/LB Jeremiah Lemmel, OL/DL Karson Macke, WR Trey Peters, WR Kurt Siefert, sophomores LB Chase Hamilton and QB/DB Travis Lecher, and freshman QB/WR/DB Bryson Bonelli will get their fare share of opportunities in the preseason. Lechler and Bonelli are in a good spot. A good showing before the season starts from either one of them, might be enough to persuade coach Ulery to keep Pohlman at running back, something he doesn't oppose doing if one of these youngsters earns the job under center.
PLAYOFF HISTORY (43-35)
Sectional Champion (nine) – 2015, 2009, 2006, 2005, 2004, 2003, 2002, 2001 & 1986.
Regional Champion (one) – 1986.
2019 SCHEDULE
Fri – 08/23/19 – at Jennings County – 7:00 PM
Fri – 08/30/19 – at Triton Central – 7:00 PM
Sat – 09/07/19 – at South Dearborn (at Lucas Oil Stadium) – 5:30 PM
Fri – 09/13/19 – RUSHVILLE – 7:00 PM
Fri – 09/20/19 – EAST CENTRAL – 7:00 PM
Fri – 09/27/19 – at Lawrenceburg – 7:00 PM
Fri – 10/04/19 – at Greensburg – 7:00 PM
Fri – 10/11/19 – FRANKLIN COUNTY – 7:00 PM
Fri – 10/18/19 – CONNERSVILLE – 7:00 PM
Fri – 10/25/19 – TBD – First Round IHSAA Playoffs