2019 Snapshot: South Dearborn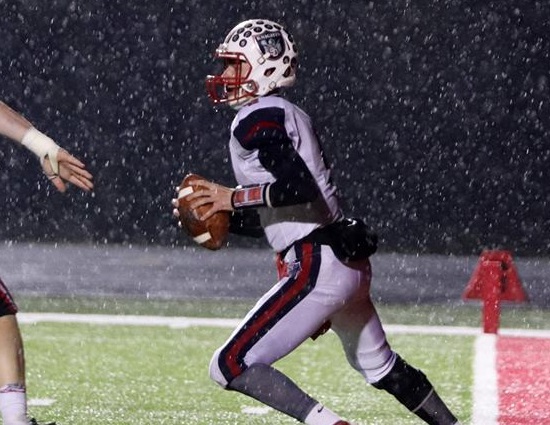 South Dearborn football is coming off its best season in 22 years. The Knights fell 10 seconds short of playing for a Sectional 23 championship.
They graduated a very talented class that produced an 8-3 record. While the 2018 group set high standards and knocked on the door last year, this 2019 group may be ready to break the door down.
"We bring back a great group of seniors and juniors that saw a lot of playing time last year and are ready to finish what was started," head coach Rand Ballart stated.
What's done is done. The important thing for this program is to take the next step.
"I told them the other day, no one cares about what you did last year, that's over. The only thing that matters is what you do now," Ballart said. "We are hoping to put a great product on the field and keep the excitement going on Highlander Hill. We are ready to give everything we got and…finish it."
Class 4A, Sectional 23
2018 RECORD: 8-3, 2-1 EIAC 4A
COACH: Rand Ballart (14-28 at South Dearborn, four years; 14-28 overall)
TOP RETURNEES
Adam Dixon, Sr, QB: The 6-foot-4, 190-pound gunslinger is back for his third year as the Knights' starting quarterback. Dixon threw for 1,444 yards with 17 touchdown passes and three rushing scores. He will play at the next level either Division I-AA or Division II.
Dalton Guthrie, Sr, RB: Despite playing in just six games, Guthrie still ran for 629 yards and eight touchdowns as a junior.
Chance Sperringer, Sr, WR: Had 19 receptions for 285 yards and a pair of touchdowns in 2018.
Hunter Hatfield, Jr, WR: Had nine receptions for 135 yards and a touchdown as a junior.
Andy Dixon, Sr, WR: Look for Dixon to become a major threat in the offense as a senior.
Jake Black, Sr, TE: Mostly used as a blocker, Black is a key component in the South Dearborn run game.
Brandon McGraw, Sr, C: The 6-foot-4, 260-pound McGraw can move some earth up front.
Kanen Jackson, Sr, OG: Not the biggest lineman, but this two-year starter gets the job done.
Andy Daugherty, Jr, OL: There is a huge upside to the 6-foot-6, 270-pound Daugherty. He should play himself into scholarship opportunities this fall.
Tyler Thompson, Sr, OT: Will lineup on the opposite side of Daugherty. Thompson will give the opposition fits with his 6-foot-5, 315-pound frame.
Timmy Dick, Sr, OLB/SS: Starter since his freshman year, Dick was in on more than 60 total tackles with two-and-a-half sacks and four fumble recoveries as a junior.
Nate Pruitt, Sr, LB/P: A four-year starter and the Knights' top returning tackler. Pruitt had a sack and forced three fumbles in 2018.
Bryce Valdez, Jr, DT: A disruptive force up front, Valdez was in on 35 total tackles and had a sack a year ago.
Austin Ashcraft, Jr, DE: Back for his second year as a starter, Ashcraft should have a big year if he remains healthy.
Jacob Waldon, Sr, MLB: played in six games and had 27 total tackles as a junior.
Sean Sohmer, So, LB: Should make a major impact on defense after lettering as a freshman.
Will Yauch, Sr, CB – A returning starter and vital cog in the secondary.
Bailey Whitelock, Jr, FS: Had 34 total tackles and three takeaways (two INTs, one FR) as a sophomore.
NEWCOMERS
Dalton Traue, Jr, TE
Chase Emmert, Jr, OG
Alex Rullman, Jr, OG
Jackson Goodall, Jr, OT
Alex Kemper, Jr, OT
Dalton Hatfield, Jr, DE
Tyler Gabbard, Jr, DB
Eric Underwood, Jr, OL/DL
Jarrett Montgomery, Jr, TE/DE
Landon Herzner, So, RB
Drew Probst, So, WR
Isaiah Otto, So, WR
Reese Willoughby, So, WR
Evan Meek, So, DL
Cooper Barker, So, FS
Logan Thies, Fr, QB
Ashton Kittle, Fr, RB
PLAYOFF HISTORY
(12-34 overall)
Sectional Champion (none)
2019 SCHEDULE
Fri – 08/23/19 – at Seymour – 7:00 PM
Fri – 08/30/19 – MADISON – 7:00 PM
Fri – 09/07/19 – vs. Batesville at Lucas Oil Stadium – 5:30 PM
Fri – 09/13/19 – CONNERSVILLE – 7:30 PM
Fri – 09/20/19 – at Greensburg – 7:00 PM
Fri – 09/27/19 – at East Central – 7:30 PM
Fri – 10/04/19 – FRANKLIN COUNTY – 7:00 PM
Fri – 10/11/19 – RUSHVILLE – 7:00 PM
Fri – 10/18/19 – at Lawrenceburg – 7:00 PM
Fri – 10/25/19 – TBD – First Round IHSAA Playoffs
*Image by Linda Lyness Maxwell