2019 Snapshot: Holmes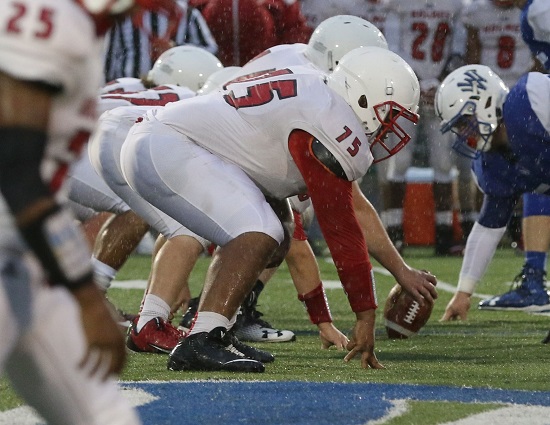 It was a season of streaks, both good and bad, for Holmes in 2018. The Bulldogs stumbled out of the gate, losing its first four games. They would go on to win the next four and before dropping their final three contests. Holmes did manage to grab a share of the Class 4A, District 7 title on that roller coaster ride.
Head coach Ben Nevels now looks for more consistency out of his troops. The 2019 Bulldogs offer some reason for optimism. They will return a core group of young men who played a lot of varsity football last season.
"We are expecting our core players with experience to blend with our youthful athleticism; the two together will pay big dividends," Nevels claimed. "This group of young men battled through some early adversity last year en route to winning four games straight and claiming a share of the district title."
There is a ton to like about this squad. They should be explosive offensively and the definitely ability to stretch the field both vertically and horizontally.
"We return several offensive linemen who saw significant varsity playing experience last year," Nevels added. "Defensively, we will continue to be aggressive and hit and run. Our strength should be our defensive front. We expect them to be extremely disruptive,"
There is still lots of room for improvement. Holmes gave up 328 yards and 31.0 points per game last season.
Class 4A, District 6
2018 RECORD: 4-7, 3-1 Class 4A, District 7
COACH: Ben Nevels (21-51 at Holmes, seven years; 21-51 overall)
TOP RETURNEES
Tayquan Calloway, Jr, slot/DB: Has the opportunity to be one of the best athletes to come through Holmes in quite some time. Calloway can score from anywhere on the field with the ball in his hands. On defense, he had four takeaways a year ago. Calloway also ran for 338 yards, caught 24 balls for 512 yards, averaged 21.4 yards per reception and found the end zone 10 times as a sophomore.
Quantez Calloway, Jr, WR/DB: The sky's the limit for Calloway. He is a special athlete who can be a game changer. In his first season of varsity football he lined up at quarterback, running back, wide receiver, cornerback and safety. Calloway finished his sophomore year. 180 passing yards, 79 rushing yards, 24 receptions for 355 yards, three touchdowns (two rec, one rush) and an interception.
Mike Hall, Jr, OL/DL: Showed lots of promise as a sophomore with two fumble recoveries and an interception.
Aiden Dietz, Jr, OL/DL: The 5-foot-11, 260-pound lineman is a student of the game who possesses tremendous strength and a great team first attitude to go with it. Dietz has worked his tail off in the weight room this winter and will have the opportunity to dominate games on both sides of the ball this year.
Damario Foster, Sr, TE/DL: Has bought into the weight room this winter and it is beginning to show. Foster has great length and athleticism. He will be an impact player on both sides of the football this year. He had 10 receptions for a154 yards and a touchdown as a junior.
Daylan Griffin, Sr, slot/DB: Daylan will be one of the Bulldogs' leaders this season. Griffin plays with a quiet confidence and does a great job of quarterbacking our defense
Luke Richter, Sr, OL: Returning starter on the o-line and a senior leader.
Damian Green, So, OL: Lettered as a freshman and is now back to do even bigger things this fall.
Jamaja Spencer, Sr, OL: One of the anchors of the offensive line. Spencer will be counted on to help bring along the underclassmen.
Phillip Madison, Sr, OL/DL: A three-year starter, Madison will play plenty of snaps on both sides of the ball.
Bryce Boles, Sr, DL: A returning starter up front and a catalyst for the Bulldogs.
NEWCOMERS
Sophomores RB/SS Javier Richardson and WR/DB Keyandre Larry will start in the Bulldogs' secondary. Expect them to also contribute on offense.
2019 SCHEDULE
Fri – 08/23/19 – at Boone County – 7:00 PM
Fri – 08/30/19 – at Grant County – 7:30 PM
Fri – 09/06/19 – OWEN COUNTY – 7:00 PM
Fri – 09/13/19 – at Louisville Holy Cross – 7:30 PM
Fri – 09/20/19 – NEWPORT – 7:00 PM
Fri – 09/27/19 – BYE
Fri – 10/04/19 – at Rowan County – 7:30 PM
Fri – 10/11/19 – BOYD COUNTY – 7:30 PM
Fri – 10/18/19 – at Harrison County – 7:30 PM
Fri – 10/25/19 – at Scott – 7:00 PM
Fri – 11/01/19 – at Bellevue – 7:00 PM
*Image by Carla Martin